Lake Como: Things to do in Varenna
By Emma Marshall
This post contains affiliate links
There are several towns on Lake Como to choose for a short break to the Italian Lakes. These include Menaggio, Bellagio, Tremezzo and Como itself.
However, if you're looking for a couple of days away in a picture postcard place that is easy to get to, then I'd say you need look no further than Varenna.
Read on for information on why you should put Varenna on your list of places to visit, the top things to do in Varenna, and practical information for a short break here.
You can also book trips around Lake Como here.
Where is Varenna?
Varenna is one of the towns you can find on the shores of Lake Como, one of the Italian lakes in the north of the country. It is only a few kilometres from the Swiss border.
It is around 85 Km from Milan which makes it an easy short break if you fly into one of the city's airports.
Its proximity to Milan also means that it's possible to day trip here if need be. You could either drive, or take a bus or train.
You can also book an organised tour that takes you Varenna and other towns on Lake Como.
My visit to Varenna
I stayed in Varenna for two nights and had a wonderful time. And I definitely hope to go back some day.
Here are the reasons I think it's one of the towns on Lake Como worth putting high on your list. You'll also find an outline of the key things do in Varenna.
It's breathtakingly beautiful
To say Varenna is breathtaking is an understatement. When we caught our first glimpse of the lake from the ferry terminal, it was impossible not to stop and stare at its beauty.
There were small boats bobbing up and down and mountains towering in the background.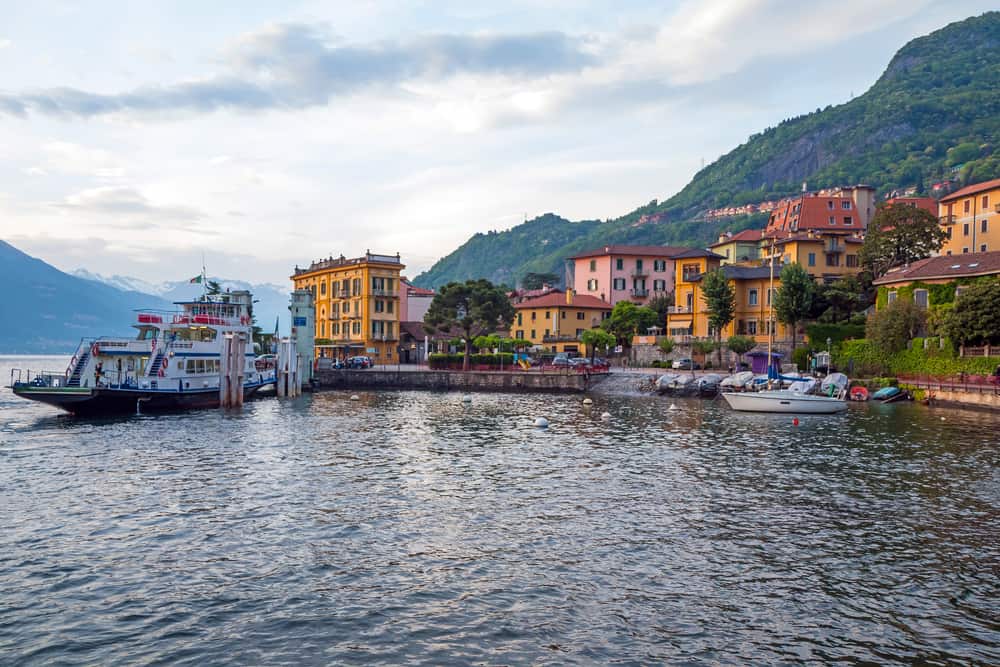 I'd expected this. You know a place must be beautiful when the rich and famous have houses in the area (George Clooney has a house in nearby Laglio).
But even I, with my love of lakes and mountains, was lost for words.
But, as we soon discovered, there was more to come. We made our way along a small flower covered walkway that hangs over the lake edge. Turning the corner, we came across the main and arguably even prettier, part of Varenna.
Arranged around a small circular bay, there are cafés, restaurants and small boutique shops here. This includes several gelato shops selling delicious, including vegan, Italian ice cream.
There are more small boats moored along the waterfront ready for hire. People sit alongside the lake dangling their feet into the cool and pristine water and watching the families of ducks frolicking and swimming alongside.
They are overlooked by beautiful rustic houses and large cypress trees that stand like sentries in the terraces above the water. These can be reached by steep steps that wind up away from the bay.
At sunset, it's really quite magical and there are plenty of places to sit and soak up the atmosphere and watch the sun go down.
There's also a small quaint piazza a few minutes' walk away from the water. At the top end and across the road, there is a pretty church.
It's a great place for a relaxing leisurely break
Our short break inevitably centred around the lake: walks along the shoreline and treks uphill to vantage points that offer amazing views of the lake, the mountains and scattering of towns and villages below. Things that make you appreciate the beauty of the area.
We didn't swim in the lake, but there were plenty of people doing this!
It's the perfect place to slow down, relax, and adopt a much healthier pace of life. You should ditch your tick list of sights to see and use it as way to fully unwind.
Even if you do plan to adopt a slower pace of life on your short break, there are a few things you could do with your few days on Lake Como.
Read on for the top things to do in Varenna.
Visit Villa Monastero
The first place I'd recommend visiting is Villa Monastero and its botanical gardens.
We reached the Villa via a short stroll through Varenna's winding, cobbled backstreets and by crossing the town square. It's then a short walk to the villa.
Having paid our 5 euro entrance fee, we meandered down the steep slope, lined with deep red roses in full bloom. We then reached the lakeside and the main building.
This was once a nunnery but is now a conference centre and museum, complete with a small café. The spot is surrounded by beautiful gardens with ornate fountains, statues and pillars.
You get panoramic views across the lake here which allow you to look back on the town.
It's a lovely, peaceful place to visit with plenty of areas to sit and relax and get away from the world. The fact that there seemed to be relatively few tourists when we were there made it wonderful.
For me, it's a must when deciding on things to do in Varenna.
Sail over to Bellagio
After our amble through the gardens in Villa Monastero, we headed to the ferry port. Here we took the ferry across the lake to the neighbouring town of Bellagio.
It is 9.20 euros per adult for a return trip (half price for children under 11 years). It's about a 15 minute trip.
Bellagio is one of bigger and more touristy towns on Lake Como, and feels much more glitzy and glamorous than Varenna.
You only have to take a look at the expensive, convertible cars driving around the town to realise this. For us, it was a little too crowded though in comparison to Varenna.
However, it's definitely worth a visit and there are many more shops and restaurants to choose from here. It's a fascinating place to wander, with its narrow cobbled streets leading away from the wide-open boulevard on the waterfront.
Had we been staying longer, we would definitely had hopped across for an evening meal and cocktails overlooking the lake.
Climb to the Castello di Vezio
We also climbed to the small castle perched high on the hill. We took the path uphill from Villa Monastero which was a strenuous 30-40 minute walk up a steep rocky hill.
It would therefore not be suitable for anyone with mobility issues. There is, however, a small café at the top for refreshments and if you need a comfort break.
There is a small fee to enter the castle but the views are worth it.
You can also see some birds of prey in the grounds. If this interests you, check the website for the dates and times when they have falconry shows.
Note the castle is only open between March and 1st November and closes if it is raining.
Visit other towns on Lake Como
Whilst on a visit to Varenna, if you have the time, take the opportunity to experience other towns on Lake Como.
If you don't have a car to hand, you can do this either by boat or train or by booking an organized tour.
Boat trips to other towns on Lake Como
Boats go from the ferry port to a number of nearby towns around the lake (click here for more information).
There are two types of boat you can take from Varenna.
The ferry
There is a ferry service connecting four towns in the centre of the lake: Varenna, Bellagio, Menaggio and Cadenabbia.
From Varenna, a trip to Bellagio takes 15 minutes and the same to Menaggio. Cadenabbia is 30 minutes away. Return journeys for adults cost 9.20 euros.
You can also buy one-day and six-day passes that give you unlimited travel. For the central ferry area (covering the four towns), this would be 15 euros for one day if you're staying in Varenna. It would cost 45 euros for six days.
Additional charges apply if you want to take a bike or car/motorbike onto the ferries.
The hydrofoil
Hydrofoils connect Varenna to over 10 other towns on Lake Como that are situated beyond the more central area of the lake. Essentially they run from the town of Como at one end of one "leg" of the lake to Colico at the other end.
Base prices for the journey are the same, but there is an additional charge for the hydrofoil speed service (all of which stop at Varenna).
There are eight or nine hydrofoils stopping at Varenna on weekdays. Sometimes intervals between these can be long, so check timetables before heading to the port.
Trains to other towns on Lake Como
If boats aren't your thing, you can catch trains to nearby towns on Lake Como such as Bellano and Lecco. It takes around 15 minutes to reach Bellano and around twenty five to Lecco.
The train station is just a few minutes uphill from the centre of Varenna and has a lovely little coffee shop if you need to while away time waiting for the train.
Click here for train timetables and information on costs.
Combine it with a trip on the panoramic Bernina Express
If you've read my post on my trip on the Bernina Express train, you'll know that it's easy to combine a visit to Varenna with this.
Click here to discover tours that combine visiting Lake Como with a trip on the Bernina Express.
We stayed for two nights in Varenna before catching the train to nearby Tirana, a small town on the border with Switzerland.
We then embarked on an absolutely amazing 122km journey through some of Switzerland's most breathtaking and spectacular scenery.
We ended our journey by connecting to a train to Zurich (see my post on Zurich and for free itineraries for short breaks).
If you like trains and wonderful alpine scenery, you'll love this!
It's easy to get to
When I was researching a trip to the Italian Lakes, I was doing this on a time budget (we had a maximum of 2 nights to stay here). This meant that I needed to find somewhere that was easy to get to.
So for me, one of the advantages of choosing Varenna was how quickly we could get there.
We flew into Milan Linate airport and then made our way to the central station. From here it was just a one hour train ride directly to Varenna.
General information on getting to Varenna
The nearest airports are in Milan.
Milan Bergamo is around 50 km away; Milan Linate and Milan Bergamo are just over 60km away.  If you're coming only to visit Varenna, then flying into one of these airports would be best.  
You could, however, combine a trip here with time in other northern Italian cities. Turin is around 155km away and Verona is just over 140km away (click here for an itinerary for a weekend in Verona).
If you fly into Milan, it's between an hour and a quarter and an hour and a half by car to Varenna.
If you're using public transport, you need to make your way to the central train station. 
Linate airport is closer and takes around thirty minutes via train; it is double this from Malpensa airport and longer from Bergamo (the fastest being around one hour and twenty minutes).
From the central station, the train goes directly to Varenna-Esino station. This takes just over an hour, and once you hit the mountains, the scenery is stunning.
A short walk downhill from the station takes you to the ferry port from where you can walk around the rocky outcrop on a flower covered pathway to the main part of Varenna.
Where to stay when you visit Varenna
When we visited Varenna, we stayed at Divina Vita Bed and Breakfast, in one of the apartments above their restaurant, Bar Il Molo. It's situated just a stone's throw from the lake.
We loved it. I have to admit that it was a little noisy at night. With the windows open, you could hear the voices of people eating and drinking on the outdoor terraces.
However, it was more than made up by being served breakfast every morning while sitting outside by the lake. The following image was our view!
Breakfast was just perfect. At this time of day, the town has not quite woken up and so everything was a little deserted.
We had the spot pretty much to ourselves and so whiled away our time listening to the water lapping onto the shore. I can't think of a much better way to start the day.
If you prefer being away from the main hustle and bustle, there is the Hotel Du Lac.
This is a bit further away from the lake's shoreline, but it does overlook it. We visited at sunset and it was a particularly nice place to have a pre-dinner drink and watch the sun go down.
Other places to stay include the Hotel Villa Cipressi, and the Hotel Royal Victoria.
Other ideas for European and UK short breaks
If you visit Varenna, I hope you enjoy some of the wonderful things to so here. For other ideas for short breaks in the UK and Europe, take a look at some of my other posts: