Things to do in Zurich in winter: the ultimate guide
By Emma Marshall (updated January 2023)
As the largest city in Switzerland, Zurich offers visitors a generous sprinkling of attractions: a chocolate box old town to wander around, a crystal-clear river that runs through the historic centre and a glacial lake surrounded by mountain peaks.
But if you're thinking it's mainly a summer destination, then you will be pleasantly surprised. It is true that Zurich is a fabulous place to visit at that time of the year, but there is equally a plethora of activities geared towards the colder, winter months.
It really is a perfect city to visit all year round.
This guide outlines the top things to do in Zurich in winter. And in it I answer all your questions!
This article contains affiliate links.
Where is Zurich?
Zurich is Switzerland's main commercial hub, located in the canton of Zurich in the north of the country. It is just over 120 km from the capital, Bern, around 75 km from Basel and around 275 km from Geneva.
Zurich is also well located for anyone who is interested in hopping over the border to visit some of Switzerland's neighbouring countries. It is only 24 km from the German border, and around 80 km from Vaduz, the capital of Liechtenstein.
Top facts about Zurich
Zurich is the largest Swiss city, by population, with over 400,000 inhabitants.
Although Zurich is the capital of the canton of Zurich and is Switzerland's largest city, it's not the capital of Switzerland. The capital is the smaller Bern, located towards the central part of the country.
Although there are four official languages in Switzerland, German is the official language for Zurich.
It's a multi-cultural city. According to Stadt Zurich, at the end of 2018, the people living in Zurich came from over 170 different countries. This means that around a third of people living in Zurich are not Swiss nationals.
The city has the largest church clock face in Europe, measuring 8.7 metres in diameter.
In August, around 4,500 people swim the length of the city's river, the Limmat.
At Christmas, Zurich has a tree that is adorned with 7,000 Swarovski crystals.
Zurich is less than an hour away from Europe's most powerful waterfall, the Rhine (Rhein) Falls. If you visit in winter, its flow is around 250,000 litres a second.
It's not cheap to live here! A Forbes survey in 2020 rated Zurich as the second most expensive city in the world to live in, reflecting Switzerland's overall position on this list (the country's four main cities were listed in the survey's top five places).
Why visit Zurich in winter?
Zurich is a perfect city to visit all year round; there is no shortage of things to see and do.
Some activities obviously won't be major draws in the winter season (swimming in the lake being one of them!). But that doesn't mean it doesn't have other attractions to entice visitors in the colder months.
With its charming old town lit up on the dark, wintry nights, its wonderful cosy cafes and restaurants, relaxing spas and first-class museums to visit, there's an excellent choice of things to keep you busy.
Its location near the mountains also means it is a perfect base for those of you who wish to partake in some winter activities or sports.
And if you're there in the run up to the festive season, and are thinking of the things to do in Zurich in December, there are some magical Christmas markets that you can visit.
Should I visit Zurich or Geneva?
For me, this isn't really an either/or question: both cities are fascinating and definitely worth exploring.
They each have fascinating old towns to explore, amazing food, top notch museums and glacial lakes that you can walk beside for a pleasurable stroll.
They are notably different, however.
Being in the French part of Switzerland, Geneva, has more of a leaning to French food, whilst Zurich is more Germanic (both cities incidentally have a superb selection of international cuisines to satisfy those tourists looking for a wider choice).
Geneva is also home to some notable landmarks that you should visit. For example, there's the International Red Cross and Red Crescent Museum and the Palais des Nations, the site of the UN.
You can also see the Jet d'Eau, a 140 metre plume of water that periodically spurts up into the air.
If you only have time to visit one of them, your decision may be influenced by other towns or cities that are close by and that you fancy adding to your trip. For instance, Geneva is very close to the French border and so it would also be possible to combine your trip with a short visit to Annecy and/or Lyon.
Zurich, on the other hand, is closer to Germany and Liechtenstein, and so, for example, if you fancy exploring the world's 6th smallest country, then Zurich is the perfect getaway.
If you're still trying to decide, check out my post on Geneva vs Zurich which compares the two cities on a range of different features.
How cold does it get in Zurich in winter?
Zurich can get chilly in the winter months. However, the temperature generally hovers above zero, with just a few periods when it dips into minus figures.
Having said this, if you visit between December and February, average temperatures are usually low, so it's best to plan for cold days and pack accordingly. January is apparently the coldest month.
Despite the chilly temperatures at this time of year, you can be blessed with clear and sunny days. We once visited in December and were treated to crisp and bright winter days, perfect for walks and sightseeing.
How to get to Zurich
You can fly to Zurich from many countries, both within and outside Europe. The main airline carriers service the city.
Swiss trains are also renowned for their efficiency, so getting around this mountainous and extremely scenic country, as well as connecting to neighbouring countries, is incredibly easy.
See below for my ideas for day trips from Zurich.
Connections from Zurich airport are quick and easy: you can literally reach the centre of Zurich in under 10 minutes. The speed and efficiency of connections when you arrive is one (of many!) reasons why Zurich is among my favourite travel on a time budget destinations.
Alternatively, if you'd prefer to book a private transfer from the airport, click here.
How to get around Zurich
Zurich has an efficient public transport system consisting of trains, trams, buses and boats.
The Zurich Transport Network (ZVV) covers all transportation and its website has maps and timetables that you can download. The Schweizerische Bundesbahnen (SBB) covers the more regional and international train connections.
Tickets can be purchased for varying durations and they allow you to hop on and off of different transportation, including the ferry boats that skirt across the lake.
You can also buy a Zurich Card that gives you unlimited travel for specified periods as well as extra discounts for sightseeing.
What is the Zurich Card?
The Zurich Card is designed to help tourists get around the city and sightsee in an efficient and cost-effective way.
You can buy a Zurich Card for either 24 or 72 hours. As well as giving you unlimited second-class travel on public transportation around the region, it entitles you to other benefits, including some boat trips/cruises and discounts on entry to museums.
A Zurich Card is 27 CHF for 24 hours and 53 CHF for 72 hours. If you think you will be hopping on and off transport all day, and may also visit museums, it might save you money to purchase one.
What are the top things to do in Zurich in winter?
Zurich is a city that is bursting with attractions whatever the season or weather. But if you're visiting during the winter months, there are lots of things that you can add to your to do list.
Read on for the best things to do in Zurich in winter.
You will also find Zurich itineraries at the end of this guide.
Explore the old town and Bahnhofstrasse
Zurich's historic old town is like something from a fairytale. Essentially, it covers the narrow streets in the two districts that straddle both sides of the River Limmat that flows through the heart of the city.
Below are the highlights that I'd recommend seeing while exploring the historic centre. Alternatively, you can book organised tours that will cover the main sights or this two-hour bus tour which will take you around these.
Niederdorf and Limmatquai
On one side of the river you have Niederdorf, a long pedestrianised street which runs parallel to Limmatquai along the waterfront.
Lined with bars, restaurants and shops, and with small cobbled streets branching off, you can wander all the way up to Bellevueplatz and the start of the lake. It's a lively and bustling area full of nightlife.
In the colder months, the narrowness of the streets, lit up in the dark, makes it feel really festive and wintery (and a little bit romantic for anyone looking for a short break later in February for Valentine's Day). During the Christmas holiday season there are Christmas decorations, twinkly festive lights and Christmas markets to wander around.
On Limmatquai, there is Zurich's 17th century renaissance rathaus (town hall). There are also steps down to the river. In summer we have a tradition of dipping our toes in the water here.
The Grossmunster Church
At the junction with Kirchgasse is the 16th century protestant Grossmunster church, with its distinctive twin spires.
When you visit, make sure you stand outside the front and look down. You get an impressive view from here of the nearby Fraumunster church on the opposite side of the river.
For those with a good head for heights, you can also pay to go up to the viewing deck outside one of the spires.
I recently did this. And despite feeling a little out of breath by the time I reached the top (unfortunately there is no lift), I thought it was worth the effort.
The Fraumunster Church
Across the river is the Fraumunster, another landmark in Zurich's skyline. With its tall thin green spire, you can't fail to miss this beautiful church.
So named because of the women who lived in the church (frau meaning married woman in German), it is definitely worth a visit. According to the Zuerich.com website, you shouldn't miss its beautiful stained glass windows. It is open for visitors every day.
St. Peter's Church
A stone's throw from the Fraumunster is St. Peter's Church.
This is Zurich's oldest parish church and is famed for having Europe's largest church clock face.
The Lindenhof
St. Peter's Church is a short walk from the Lindenhof, a small and compact outdoor open space (once the site of a Roman fort).
When we visited in December, it was a clear, bright winter's day and we got a fantastic view back over to the Grossmunster from this vantage point. It's a lovely place to look out over part of the Limmat river.
You can also get more great views over the city from the rooftop bar in the Storchen Hotel (note this has a minimum charge per person to go in).
Bahnhofstrasse
A short walk down from the Lindenhof and connected to the old town by a network of pretty historic streets and squares is Bahnhofstrasse. This is a major thoroughfare that connects the lakeshore to the main station.
Bahnhofstrasse is an important shopping street and as well as sporting your standard shops, it's also where you can marvel at luxury and boutique outlets (think Prada, Louis Vuitton, Rolex etc).
It's also where you'll find Paradeplatz and many of the city's financial institutions. The concentration of banks and insurance companies is a reminder that Zurich is a major player in the world's banking industry.
If you want to learn more about the history of banking in the city, there is a tour that you can book.
Go on a cruise around Lake Zurich
Seeing Lake Zurich, stretching out towards the mountains at the end of Zurich's old town, is an absolute must. You can walk alongside the lake and even swim in the crystal clear waters, but in winter, you might prefer to take a boat tour instead.
The docking area is a stone's throw from the old town so it's really easy to book a cruise.
However, if this is something you really want to do, I'd suggest arranging a cruise in advance. Ideally, you should plan it into your itinerary as the frequency of cruises reduces during the winter months.
You can, however, take a round trip from Zurich Burkliplatz (near to the old town) and back, via Thalwil and Erlenbach. Click here to access the timetable.
You can also book special cruises (e.g. ones where you can taste Swiss fondue or cook your own food on a hot stone) up until mid-December. Click here for more details.
Have a brisk winter walk around Zurichhorn Park and visit the Chinese Garden
Not far from the old town is Zurichhorn Park, a popular green space that runs beside the lake.
It's a wonderfully relaxing spot whatever the weather.
You can stroll through the leafy surroundings in the fresh air, soak up the sights, including the intriguing sculptures dotted throughout, and grab a coffee. As its name suggests, Lakeside offers magnificent lake views whilst also enabling you to put your feet up and/or escape from the cold.
You can also find the Chinese Garden in Zurichhorn Park. It may be small, but it is beautiful and definitely one of the top attractions to add to your list, especially if you'd like some peace and tranquillity.
There's a small lake in the middle and several colourful temples.
Stadt Zurich states that the garden is highly regarded and "considered to be one of the highest-ranking gardens outside of China". Go here and you'll soon forget you're sightseeing in a major European city. It is open every day from 11am until 5pm and entrance is free.
If you fancy a trip out to Zurichhorn, then there are several options: catch the boat to the Zurichhorn stop; get 912 or 916 bus to the Chinagarten stop; or take the number 2 or number 4 tram to Hoschgasse or Frohlichstrasse. Walking will take 20-30 minutes.
Escape the cold and visit a top museum
As you would expect in such a major city, there are some fantastic museums that you can visit. Below are some suggestions.
The Swiss National Museum (the Landesmueum Zurich): this houses many historical and cultural art works and artifacts spanning different centuries.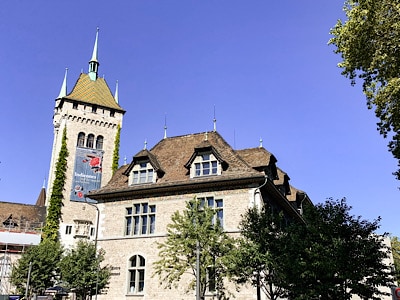 The museum has a few permanent exhibitions.
This includes one that covers Switzerland's history and another where children can have different experiences – for example, exploring an Arabian palace, an old railway carriage and a sailing ship. There is also an online collection that you can access through its website.
The museum can found next to Zurich's main railway station. It is open every day except Monday from 10.00 to 17.00 (with a later closing time of 19.00 on a Thursday evening).
The Fifa World Cup Museum: dedicated to the history of football, this top attraction is kitted out with a wealth of fascinating footballing facts.
It covers all the World Cup tournaments, and features exhibits that showcase football kits, equipment and trophies. It also sports interactive sections which are particularly good for children.
The museum is open every day except Mondays from 10am to 6pm. To get here, travel to Bahnhof Enge and walk a short distance.
The Rietberg Museum: an important art museum, the Rietberg displays works from Asia, Africa, the Americas, and Oceania. Its website tells us that it has "23,000 objects and 37,000 ethnographic photographs in its collection".
Situated on Gablerstrasse 15, near to Enge station, it is open every day except Monday from 10.00 to 5.00 (on Wednesdays it closes at 8pm).
The Kunsthaus Zurich: Another art museum, the Kunsthaus Zürich contains one of the largest collections in the country with an estimated 4,000 works of arts and sculpture dating back to the 13th century. Many of these are on permanent display, with a variety of temporary exhibitions.
The Zurich Tram Museum: Zurich's tram network is extensive so it's quite fitting that there is a museum dedicated to this as a mode of transport.
The museum offers an immersive experience. In its own words, "Visitors are invited not just to look, but to touch and feel the trams, hear the vehicles and let their emotions run free; a memory of a wonderful meeting at a tram stop, a charming tram driver or an adventurous trip on the bus!".
You can visit on four days of the week (Monday, Wednesday, Saturday and Sunday) from 1pm until 6pm. Entry is free for Zurich Card holders.
The museum is located on Forchstrasse 260, in District 8. This is near to Zurichhorn Park so you could combine a museum visit with the Chinese Garden.
The Wow Museum: Billing itself as the "room for illusions", the Wow Museum "combines fun with learning, culture and virtuality".
When you visit, you can experience rooms with different designs, lighting and artefacts within them – all quite bizarre and striking, and all providing some unique photo opportunities. It also has a magic show on a Friday night.
The Wow Museum is situated right by the main railway station and is open every day except Tuesday, including in the evenings.
Chill out (and warm up!) in a thermal spa bath
For me, there's nothing better on a cold winter day than the opportunity to immerse yourself in warm and relaxing thermal baths.
One of the best places to do this is at the Thermaldbad and Spa, situated on the renovated site of Zurich's old Hürlimann brewery. This city landmark produced the wonderfully named Santa Claus or Samichlaus beer.
As well as a fabulous rooftop thermal pool with panoramic views of the city, the spa offers a breadth of experiences, not least an unmissable opportunity to bathe outside on a cold winter day.
The Irish-Roman circuit takes you through a series of pools and wellness rooms.
The cheaper and quicker dip in the indoor beer vat, followed by the outdoor pool, is also a great experience. See my earlier post for more details.
The spa is a short distance from the main sights, and is therefore a great place for a short visit. You can easily reach it by public transport. From Enge station it's only a five-minute walk.
Sample the mouthwateringly delicious Swiss food
Switzerland offers a smorgasbord of delicious dishes to explore. Many are perfect in the winter, perhaps reflecting the country's mountainous geography (note, however, that they are not good for the waistline!).
Popular dishes include:
Rosti: a large fritter type dish consisting of grated potato that is either baked or fried. It can be served a side dish or as a main, complete with various different toppings.
As a carb lover, I absolutely love rosti and make sure I order it every time I visit. It's particularly appropriate when it's wintery and is my food heaven.
Fondue: a pot of hot melted cheese that you dip bread into, this is the ultimate winter warmer!
There are variations (e.g. hot oil to dip meat into or sweet chocolate fondues), but it's the cheese one that is the traditional Swiss dish. See later for where you can eat this.
Alternatively, click here for a sightseeing and fondue tour.
Raclette: this is a dish named after the cheese that comprises its main ingredient. The cheese is melted at the table and then served with a selection of accompaniments.
Sausages: I personally think that you can't have a list of the top things to eat in Zurich without including sausages on it.
In the bierkeller we visit, there's an extensive choice and it takes time to decide which to order. They also have a "Sausage of the Month"!
These dishes are often served with sauerkraut, potatoes (or potato salad) and a gravy.
Spaetzle: this is a noodle/pasta type of dish that will appeal to vegetarians as it often comes meat-free and served with cheese or onions (although there also plenty of recipes that do include meat). Another hearty dish for the colder days.
Zurich geschnetzeltes: a dish from Zurich itself, this is veal covered in a white wine cream sauce and served with mushrooms. Rosti often comes with it.
Clearly this is not one for the vegetarians, although Haus Hiltl does its own non-meat version. See my previous post for more details.
Chocolate: last but by no means least, there's the world-famous Swiss chocolate. I don't think much more needs to be said about this!
But if you do want to try some of the more exclusive brands, Bahnofstrasse offers some of the best outlets to buy them. This includes the Sprungli, Laderach and Tuescher confiseries. You can buy chocolates or stop off for chocolate cake.
You can also book organised tours where you learn more about the history of chocolate in Zurich and – most importantly! – get to eat it.
If you don't have time to stop off during your time here, you can always buy online at a later stage.
Snuggle up in one of the cosy tearooms and cafes
You won't be spoilt for choice when it comes to cosy cafes to snuggle up in. Below are some suggestions.
Sprungli: Sprungli is not just a chocolate shop, it also has a café and restaurant on its site.
The Paradeplatz outlet was opened in the 19th century and so you're also getting to see a bit of Zurich's history when you visit. There is a small seating area downstairs but a larger space upstairs.
The cake is to die for (see below). I've been several times and will be back again…
Cafe Odeon: another highlight with a colourful history, Café Odeon is definitely worth a visit, especially in the winter. Relatively small and compact in size, you will quickly warm up in the snug environment.
The café opened in 1911 and has been frequented by all sorts of famous people, from Mussolini and Lenin to Albert Einstein and James Joyce. The website is worth visiting to discover more about its illustrious past.
You can find it on Limmatquai 2, near the start of the lake and not far from the Zurich Opera House.
Café Felix: this is situated in the Confierie Teuscher mentioned above – so another opportunity to combine afternoon tea or coffee with chocolate shopping!
It's a grand cafe, with high ceilings, elegant bright lights, and a huge staircase in the middle. Situated in Bellevueplatz, at the end of the old town, it's a perfect stop if you're sightseeing in this area.
Storchen Zurich: Located right on the river on one side of the old town, this is a gorgeous place to stop for refreshments. It has a ferry docking station right outside (complete with the old-fashioned striped ferry poles flanking it).
Inside you'll find comfy sofas and chairs, but I prefer to sit along the outside terrace.
Here you can look out across the river to the Grossmunster church. They provide blankets to wrap up in when it gets cold. It also now has a swanky rooftop bar (note that you have to queue to go in here and there is a minimum charge per person).
Hotel Dolder Grand: Going for tea here takes a bit more effort, but if you have the time (and the money – it's on the pricier side, even for Zurich), it's definitely worth it.
A hotel that looks straight out of a fairy tale and situated at the summit of one of the hills overlooking Zurich, you can pop in for a drink even if you aren't staying here as a guest.
Head for the lobby where you can spend a relaxing afternoon seated in an elegant and relaxing lounge bar (when we visited there was even a harpist playing in the background).
You can order a drink or even a full afternoon tea, and if you visit on a clear day you'll be treated to spectacular views across the city, lake and mountains. If you're visiting between October and March, you can skate on the dolder open-air ice rink nearby.
If you're coming on public transport from the centre of Zurich, you will need to head to Romerhof and take the small funicular (the Dolderbahn) up the hillside. The number 3 or 8 tram will take you to Romerhof.
Head out for some winter sports
Indulging in one of the many winter sports activities on offer in Zurich will be high on the list for some people.
The mountains and a number of ski resorts are nearby(Zuerich.com lists 10 areas within 90 minutes of the city where you can go ski-ing). There are also places where you can go tobogganing.
The city is home to quite a few ice rinks during the winter months. From October to March you can also go ice skating by the Dolder Grand Hotel. There is also both an indoor and outdoor rink at the Heuried sports centre at Wasserschöpfi 71.
There are other rinks along Lake Zurich, but outside of Zurich city itself (e.g. in Rapperswil).
Visit a Christmas market
There are several Christmas markets that you can visit on a winter break to Zurich. These should definitely be on your list of things to do in Zurich if you visit over the Christmas season.
There is a market in the old town where you can combine some sightseeing with browsing among the stalls. If it's really chilly, try some hot chocolate or local gluwein.
Another market sets up on the concourse in the main train station – the Christkindlimarkt.
Here you can look up at a huge Christmas tree decorated with 7,000 Swarovski crystals – something that I imagine that is unique to Zurich. Nearby is the City Christmas market.
There is also Werdmühleplatz Christmas market, with its unique "singing Christmas tree".
This isn't a actually tree, but a stage in the shape of a tree where choirs stand and entertain the locals with festive hymns. This market is also not far from the train station.
All of these markets run from mid to late November until around Christmas Eve.
Go further afield – day trips from Zurich
Zurich's location means it's really easy to combine it a day trip or overnight stay in other destinations – for example:
Schaffhausen and the Rhine Falls: Schaffhausen is a lovely place to day trip to from Zurich. It is around 40 minutes to an hour by train.
There is gorgeous old town, a 16th century fortress, and the Rhine River where you can take boat rides.
It is also a stone's throw from the Rhine Falls, Europe's biggest waterfall.
Rapperswil: Rapperswil is on the north side of Lake Zurich. Famous locally for its rose gardens, Rapperswil is ideal for a short excursion.
It has an old town and a castle with scenic views across the lake. A mere 40-minute train ride from Zurich's central train station, it's definitely worth the excursion.
Lucerne: this enchanting city on the shores of Lake Lucerne deserves seeing if you have time. It's around an hour by train away and also has an historic centre and castle to explore.
However, the most famous site here is undoubtedly the 14th century wooden Kapellbrücke (Chapel Bridge) which you can walk over across the Reuss river. If you're in Zurich during the winter months, check out my post on the 13 best things to do in Lucerne in winter.
Vaduz: If you fancy visiting another country, then you can literally pop over to Liechtenstein. Trains from Zurich take between 40 and 60 minutes, after which there is a 30-minute bus ride into Vaduz from Sargans.
Vaduz is very small for a capital city so you'll only need a few hours: walk to the 12th century castle on the hill, explore the centre and the pretty Rotes Haus (Red House) and admire the street art throughout.
The Rhine Falls: Zurich is less than an hour away from Europe's most powerful waterfall, the Rhine (Rhein) Falls. If you visit in winter its flow is around 250,000 litres a second.
You can get a good look at the falls from a platform or take a boat ride on the river. For the more adventurous, you can also take a rope ride across the river and view the falls from up high.
Trains take around 50 minutes to Schaffhausen before changing for a 5 minute journey to Schloss Laufen am Rheinfall. Tickets for the falls are 5 CHF for the Southern Bank.
Or you could alternatively take a tour directly to the falls.
See some spectacular alpine scenery and ride the "world's first revolving cable car"
Zurich is close to some stunning mountain scenery that is worth the effort to see.
Mount Pilatus: Mount Pilatus is close to Lucerne (less than 10 kilometres away) so you could combine a trip to Lucerne with seeing some spectacular views in the Swiss Alps.
It is regarded as one of the most beautiful places in this part of Switzerland. The mountain also hosts Europe's highest Christmas market.
And it is said that if you visit on a clear day, you can look out on over 70 mountain peaks.
Mount Titlus: Lucerne is also the gateway to Mount Titlis. This is the highest summit in central Switzerland.
From Engelberg, there is a cable car type aerial cableway that you can hop on that takes you up the mountains. The ride is about half an hour, during which you ascend over 3,000 metres.
En route, you swap to the Titlis Rotair, "the world's first revolving cable car". This ensures you can't fail to miss all the spectacular views from this height as the car rotates 360 degrees, and you get to see the mountain scenery from all different angles.
After experiencing breathtaking views during your ride, several activities keep you occupied at the top.
There is a glacier cave, where you can walk to 10 metres underneath a glacier, as well as a 100-metre long suspension bridge that hangs 500 metres above the ground. It is apparently Europe's highest suspension bridge. There is also the 'Ice Flyer', a chair lift that transports you across the slopes.
You can book a day trip from Zurich to Mount Titlis here.
Mount Rigi: Other places with incredible views include Mount Rigi (or 'Queen of the Mountains').
There is a spa here, restaurants to eat in, and a number of hiking trails to explore. You can also partake in the usual winter sports on Mt. Rigi, including skiing and sledding.
If you do plan to visit the surrounding areas and mountains, my travel tip would be to consider purchasing the Swiss Travel Pass. This gives you access to all forms of public transport across its network.
You can use it to hop on the mountain trains on Rigi. It also gives access to a large number of museums in the country.
Where to eat in Zurich in winter
Zurich has plenty foodie spots to choose from.
There are far too many decent eateries to list here, so I have recommended a few notable eateries below where I have either dined myself or have looked up the menus.
You are literally spoilt for choice; there are restaurants and cafes to suit all budgets and tastes. The Zurich tourist site provides a wealth of information on eating out.
Walliskeller: Located in the old town, Walliskeller offers a wide selection of different Swiss classics. This includes sausages, fish from the Swiss mountains, and fondue (both cheese and meat).
It also has "fondue gondolas" outside the restaurant – small two-person gondolas for a romantic evening of fondue. This is definitely one of the things I'd like to do in Zurich in winter.
Zeughauskeller: this is a cheery beer keller in the city centre. It serves our favourite Swiss food and has a generous selection of sausage dishes to choose from. It's also a slightly cheaper restaurant to eat in a city where dining out is not cheap. We've been several times.
Kosmos bistro: you can combine eating with seeing a film, drinking cocktails in a bar or visiting a book café in this large venue at Kosmos.
The restaurant menu is eclectic to suit all tastes, and includes salad dishes, chicken wings, chicken tagine, Wiener schnitzel and fish and chips.
It can be found at Lagerstrasse 104, near the Swiss National Museum.
Haus Hiltl: The world's oldest vegetarian restaurant, this eatery does a fantastic Sunday buffet brunch (see my previous post for more details).
The choice on offer is extensive: an impressive and eclectic mix of traditional Swiss dishes and more modern gastronomic inventions, as well as local and international cuisine.
If you visit Zurich, I'd recommend this restaurant, which is located about a 10-minute walk from the city's main train station and off the main thoroughfare.
You can buy their wonderful cookbook here.
Raclette Factory: If you fancy trying out raclette, but are not sure about about it, then the Raclette Factory might be for you.
You can build your own dish here by selecting your cheese, a side and a topping. Alternatively, there are more standard raclette dishes.
It is located in the old town near to the rathaus.
Lakeside: If you're in the Zurichhorn area, then you could stay for a meal at Lakeside and enjoy stunning views of the lake. It serves vegetarian, meat and fish dishes. It also has a brunch buffet on Sundays from 11.00-2.30pm.
Where to stay in Zurich in winter
We've stayed in several hotels on our countless visits to Zurich. Below are some personal recommendations. However, there is an enormous choice, depending on your budget and preferred location.
Read on for my personal suggestions.
Hotel Montana is a mid-range hotel that offers a decent breakfast as part of your room price. It's ideal for short breaks as it's located just a few minutes' walk from the main train station. We've stayed twice.
Mercure Stoller: This is another mid-range hotel. It's a little out of the old town at Badenerstrasse 357, but only a short tram ride away and the tram stop (Albisriederplatz) is right across the road from the hotel.
We didn't get breakfast included in our room rate, but there was a pleasant little diner a couple of doors away.
Motel One: This hotel is also a recommendation of ours. It's another well located hotel, around a 20-25 minute walk from the train station. It has a great bar located on the ground floor.
We stayed during Christmas and New Year last year and it had a wonderful festive feel to it.
Novotel Zurich City West: a really nice hotel with a gym and indoor pool, it is located about 10 minutes by tram from the city centre. The tram stop is right by the hotel however, as well as a train station which connects to the airport.
Hotel Dolder Grand: for those of you with cash to splash, you'll no doubt love the Hotel Dolder Grand. Set at the top of a hill and with spectacular views over Zurich, the lake and the mountains, complete with ice rink in winter, it's definitely somewhere you indulge in the finer things in life.
Storchen Zurich: Another hotel for those who want something more luxurious, I've added this on because I love the location and because it consistently gets top star ratings in reviews.
As mentioned previously, it has a terrace along the river where you can sit and look across the river.
Itineraries for short breaks in Zurich in winter
If you're travelling on a time budget, you'll want to see the main sights in a short period of time. I have therefore set out a one- and two-day itinerary below.
Note that these do not include the time needed for any winter sports. To do this, you would either need more time in Zurich or sacrifice some of the city centre sights.
Things to do in Zurich: a one-day itinerary
09.30: Explore the old town: Head for Niederdorf and wander through this part of the old town. Pop into the Grossmunster church and take a look out over the river from the front of the church.

11.00: Cruise Lake Zurich: Head for Lake Zurich and take the 11am short morning cruise on the water. This will give you the opportunity to take in your magnificent surroundings

12:30: Lunch: Head back to Niederdorf and find somewhere to stop for lunch. There's a wide range of eateries here offering many different cuisines.

14:00: Explore the old town and Bahnhofstrasse: Cross over the river and explore the other side of the old town. Visit the Fraumunster and St. Peter's Church and walk to the Lindenhof for more spectacular views. If you like shopping, walk through to the Bahnhofstrasse and browse the shops.

15:30: Museums, spas or chocolate! Visit one of the museums mentioned earlier, pop to the Thermalbad and Spa for a couple of hours of relaxation, or carry on wandering around the old town and stop off for cake and chocolate at a confiserie. If you're in the city around Christmas time, visit one of the markets.

19:00 Pre-dinner drinks: Head back to the old town for pre-dinner drinks. Maybe try the bar at the Storchen Hotel which sits right on the Limmat river.

20:00 Dinner in Zurich: Wander to your chosen restaurant for some delicious Swiss food or international cuisine and reflect on your day of sightseeing in Zurich.
Things to do in Zurich in winter: a two-day itinerary
DAY 1
10:00 Explore the old town: Head for Niederdorf and wander through this part of the old town. Pop into the Grossmunster church and look out over the river from the front of the church. Cross over the river and explore the other side. Visit the Fraumunster and St. Peter's Church and walk to the Lindenhof for spectacular views. If you like shopping, walk to the Bahnhofstrasse and check out the shops here. If you're in the city in late November or December, visit one of the Christmas markets.

13:00: Lunch: Head back to Niederdorf and find somewhere to stop for lunch.

14:30: A museum visit: Visit one of the city's museums.

17:30: Take a break: Pop into a cafe for a winter warming drink or if you're staying nearby, you could head to your accommodation for a quick rest.

19:00 Pre-dinner drinks: Head back to the old town for pre-dinner drinks. My favourite is the bar at the Storchen Hotel which sits right on the Limmat river.

19:30: Dinner in Zurich: Wander to your chosen restaurant for some delicious Swiss food or international cuisine and reflect on your day of sightseeing in Zurich.

DAY 2
09:30: Zurichhorn Park and the Chinese Garden: Wander around the park, see the outdoor sculptures and pop into the Chinese garden.

11:30 Take a cruise: Head for Lake Zurich and take the 11.30am morning cruise on the water. This will give you the opportunity to soak in the magnificent surroundings.

13:00: Lunch: Grab lunch back in the old town.

14:30 Rest and relaxation: Head off to the Thermalbad and Spa for some relaxation. Or visit another museum and stop off for coffee and cake in a café. If you have time, you could take the funicular up to the Dolder Grand Hotel for afternoon tea (and/or some ice skating).

From 18:30: Pre-dinner drinks and dinner
I hope this has convinced you that there are plenty of things to do in Zurich in winter. For other ideas for short European breaks, see my website.
Things to do in Zurich in winter: Pin it!
Lead and featured image (c) Rudi1976/ Dreamstime.com
As an Amazon Associate I earn from qualifying purchases