A Royal day trip to Windsor: top things to do
If you're looking for a unique place to visit – that's easy to reach from London and offers you a close encounter with British Royalty – then look no further than Windsor. Home to the oldest inhabited castle in the world and a short walk to one of the world's most famous public schools, you can have a wonderful day trip to Windsor.
But it's not all about how the other half live. Windsor has lots to see and do on a short visit. Read on for more information.
This post contains affiliate links
Where to find Windsor
Windsor is an historic market town in the English county of Berkshire. Its location in the Royal Borough of Windsor and Maidenhead reflects its most famous landmark: Windsor Castle, home to the British Royal Family.
The River Thames flows near the castle, separating Windsor from the equally fascinating town of Eton. It is around 35 kilometres from London.
Read on for what to do in Windsor and top things to do on a day trip to Windsor.
Top things to do to do on a day trip to Windsor
Visit Windsor Castle
If you only get to do one thing, then this should be it: a day trip to Windsor Castle only would not be a wasted day trip.
Built by William I after the 1066 Norman Conquest, my guidebook states that Windsor Castle is "the oldest and largest inhabited castle in the world" and the Queen's main weekend residence.
It's therefore the main draw for tourists to Windsor, regardless of whether you are a fan of the British Royal Family or not. Over a million people visit every year.
When you enter the castle, there are several parts that you can explore. However, the fact that this is one of the Queen's main residences, means that she is often at home and parts of the imposing building are out of bounds to visitors.
Some parts of Windsor Castle are also in use at certain times – for example for events and functions (and the odd Royal Wedding!). So this may affect what you can and can't see.
The main sections that we were able to visit are described below.
Windsor Castle Round Tower
When you enter the castle complex, one of the main landmarks that will immediately catch your eye is the medieval Windsor Castle Round Tower. With the nearby Norman Gate and Moat Garden, it's part of the first section built by William I (William the Conquerer).
When you visit, look up at the tower. If the royal flag is flying, it means the Queen is in residence (she was at home when we were there!).
St. George's Chapel Windsor Castle
A short walk down from the Windsor Castle Round Tower is St. George's Chapel.
The guidebook states that the chapel is "one of the finest examples of Gothic architecture in England". Its construction was initiated by Edward IV, but finished by Henry VIII.
When you walk into the chapel, it feels smaller and plainer than you might expect, given its role in many Royal Weddings. But this is because the grander part of the chapel is through a door and in the "quire" section. It's this part that you'll recognise from TV coverage.
This section is truly magnificent and really quite breathtaking. With its long choir benches, black and white chequered floor tiles and banners of the Knights of the Garter hanging above, it's truly something.
Unfortunately, you're not permitted to take photos inside (or indeed in any of the castle interiors). I am unable therefore to share images to show just how stunning the chapel is. But Windsor Castle's website does hold some pictures that will give you a flavour of what's in store if you visit.
There are various seats in the chapel that are reserved for particular members of the Royal Family. If you ask one of the stewards when you visit, they will point these out for you.
You can visit the chapel every day, except Sunday, until 4pm.
Windsor Castle State Apartments
After visiting St. George's Chapel, make your way inside the main part of the castle and the Windsor Castle State Apartments.
These rooms are sometimes in use by the Royal Family and so off limits. But we got the opportunity to wander around some.
Windsor Castle Waterloo Chamber
We started with the Waterloo Chamber. The room's main feature (at least currently) is the pantomime pictures that hang on the walls on both sides of this huge open space.
These were painted onto the wallpaper by a young art student at the start of World War II. The drawings were designed to cover spaces that had been left when the room's usual portraits were removed to guarantee their safety.
The original portraits were later rehung over the top of the drawings. These have once again been removed – for maintenance and refurbishment – and so there is another opportunity to take a look at the drawings.
They are definitely worth seeing: 16 creations with colourful pictures of pantomime characters such as Peter Pan and Cinderella.
The Grand Reception Room
We were also able to go into the Grand Reception Room. This is a dazzling, glitzy room, a combination of red and gold and spectacularly grand chandeliers hanging from the ceiling.
There's no mistaking the fact that you're in royal surroundings when you step into this room.
It was one of several rooms that were destroyed in a massive fire in 1992. The cost of all the refurbishment and restoration work – which came in at over £36 million – was funded by the Queen herself and through entry fees to Windsor Castle and Buckingham Palace.
The Semi-State rooms Windsor Castle
We were also able to stroll around the Crimson Drawing Room in the Semi-State rooms (these rooms are only open between autumn and spring). One of George IV's private rooms, this is another opulent room, full of red and gold, with chandeliers dangling from the ceiling and large mirrors on walls.
Above the fireplace is a clock, one of more than 400 in the castle complex. Apparently when the clocks go backward or forward, it takes 16 hours to reset them all to the correct time.
St. George's Hall Windsor Castle
St. George's Hall is part of the Victorian section and was where Queen Victoria entertained her guests. It is a long hall and a seated banquet can cater for up to 160 people.
It is also plainer and less colourful than the State apartments or Semi State rooms. This does not make it any less memorable however. Its sheer size, with its vaulted ceiling and long red carpet running throughout makes it particularly striking.
St George's Hall was very badly damaged during the 1992 fire. You can see pictures of how it was before the fire if you speak to some of the stewards in the room.
If you visit over the Christmas period, you'll also get to see the Castle's magnificent 20-foot tall tree on display.
Queen Mary's Doll House
Unfortunately we didn't get to see this when we visited because of Covid restrictions (apparently it would be difficult to socially distance in its confined space). We were told, however, that it's a real tourist attraction. So if it's open when you visit, you should try to look around it.
The dollhouse is over 3 feet high and accordingly, the Castle's website says it is "the largest, most beautiful and most famous dolls' house in the world".
It was built in the 1920s for Queen Mary and contains an impressive array of miniature objects made by over 1,500 artists and artisans. These include books, a stocked wine cellar, a gramophone, and a lawnmower in the garden.
Amazingly, it also has electricity and hot and cold water!
Other things to see and do at Windsor Castle
If you are blessed with good weather, take a wander around the outside of the castle and look out over the views.
There's also a couple of shops on the premises where you can buy some souvenirs of your time here.
Windsor Castle prices
Adult tickets for Windsor Castle are £23.50. There are reduced prices for the over 60s and students (£21.20), and for the under 17s and disabled people (£13.50). Children under 5 can enter for free.
To avoid disappointment, especially at the moment when the numbers who can visit at any one time are restricted, I would strongly recommend booking in advance.
Windsor Castle opening hours
Windsor Castle is generally open five days a week (every day except Tuesdays and Wednesdays). From March to October it is open from 10am until 5.15pm. In the winter months it closes an hour earlier.
Getting to Windsor Castle
The castle is literally in the centre of Windsor and just a couple of minutes' walk from Windsor and Eton Central train station. So, I guarantee you won't have a problem finding it!
For information on how to get to Windsor, see below.
Take in the spectacle that is The Long Walk
If you've seen images of Windsor Castle, then the chances are you've seen it taken from The Long Walk.
A three-mile pathway, The Long Walk stretches through Windsor Great Park up towards the castle. It is part of the route taken by Megan Markle in her carriage en route to her wedding.
Even if the weather is not being kind to you, you really should take a quick stroll down The Long Walk. The castle end is just a few minutes from the town centre.
Once on the wide path, walk for ten minutes through the park (you don't need to walk the entire stretch) and look back. You'll get absolutely stunning views and won't regret making the effort.
The surrounding park is also beautiful. We visited in the autumn when the leaves were deep and vibrant yellows, oranges and reds.
There are also apparently around 500 deer living in the park. We didn't see any, however, as they clearly stay away from the main pathway.
Explore Windsor town centre
Windsor town centre is quite small, but (aside from shopping), there are a few things to see. On the High Street, there's the Guildhall, another venue for famous weddings.
Those held here include the wedding of Prince Charles and Camilla Parker Bowles and Elton John and David Furnish.
It's mainly a private hire venue, but there is a small local history museum inside. Click here for more information, or here if you'd prefer a virtual online tour.
Next to the Guildhall is the quirky 18th century Crooked House – or Market Cross House. According to the Visitor's Guide to Royal Windsor, it's one of the town's most photographed buildings and sits on the corner of England's shortest street.
A short walk from the main town and near the river, you'll find Alexandra Gardens. This is a small pretty garden with a bandstand. Opposite the park is the Jubilee Fountain, installed to celebrate the Queen's Diamond Jubilee in 2012.
Walk along the river
Windsor sits on the River Thames, the second longest river in the United Kingdom. The river separates it from Eton on the other side of the bank.
There is a riverside path that you can walk along on the Windsor side. Here you can catch a boat trip which will take you along the river. You can also take evening trips if you happen to be staying overnight or have the evening in town.
For boat tours in Windsor, click here. You could also book this Duck Tour.
You can stroll up here to the Christopher Wren Hotel. This is named after the famous architect who designed St. Paul's Cathedral in London in the 17th century. Situated on the riverside, it has views out over the water. For those staying longer, it also has a gym and spa.
If you do pop down to the river, you'll see flocks of birds congregating, including swans, geese and ducks. When we went this was quite a sight in itself!
Visit Eton town and college
Literally a short walk across the bridge from Windsor is its twin town of Eton.
The main part of the town is utterly delightful (the image below doesn't do it justice). An oldy-worldy street of boutique shops, pretty mews houses, delis and cafes, it's a lovely place to take a stroll.
Perhaps because it's smaller, it felt a bit more quaint and historic to me than the main part of Windsor. And if you're looking for free things to do in Windsor, exploring this side of the river is one option.
When you walk across the main bridge, just carry on straight along the High Street. This takes you past all the stores, a church and up towards another, smaller bridge. Look down on one side: there's a little green patch with a stream flowing through it and a bench – a tiny and peaceful oasis.
Further on you'll get to the world-famous Eton College. Founded in the 15th century by Henry VI, it's famous for educating the likes of novelists Henry Fielding and George Orwell, the economist John Maynard Keynes, and the chemist Robert Boyle.
It has also welcomed 19 future British Prime Ministers through its doors and both Princes William and Harry also attended Eton. Needless to say, it's an elite establishment and expensive to attend!
If you do fancy taking a peek into this side of life, then there are guided tours available that you can book onto. These take place on a Friday, between May and September.
Get a breath of fresh air in Savill Garden Windsor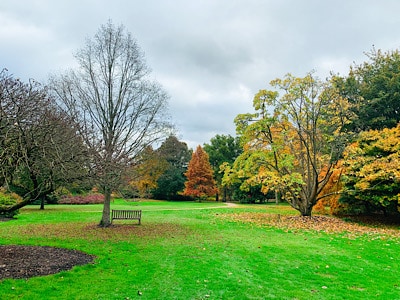 Our visit to Savill Garden hadn't been planned, but I'm so glad we went. It's a ten-minute drive from the town centre and up some country lanes.
Once there, you'll be treated to a 35-acre garden with different sections, each more or less in bloom depending on the time of year that you visit.
There's the Spring Wood, Summer Gardens, The Glades, the Autumn Wood, the New Zealand Garden and the Winter Beds. A small stream runs through one section and there are a few pretty little bridges.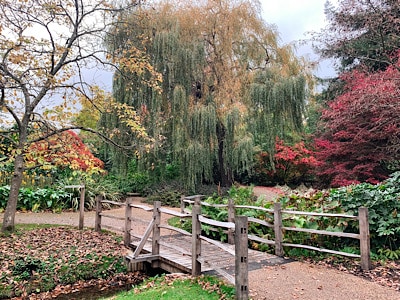 For us, visiting as we did in October, the woodland section was probably the most picturesque part with its trees with beautifully coloured leaves.
Aside from the garden, there is a café – with both an indoor and outdoor section – and a large shop. The shop sells a diverse range of products, from local honey to posh greeting cards and jewellery and ceramics.
It would be an ideal place to buy a few stocking filler presents for Christmas.
If you're interested in visting Savill Garden Windsor, visit their website for more details.
Have afternoon tea in Windsor
Where better to have some British afternoon tea than right next to the home of the Royal Family? And it's a good way to take a break after a couple of hours sightseeing in Windsor Castle or the town centre.
Just a couple of minutes away from the entrance of Windsor Castle is Church Street, a small and attractive cobbled street. Here you will find a couple of souvenir shops, and the Queen Charlotte pub at the bottom on Church Lane.
There's also the Clarence Brasserie and Tea Room, which we visited. As well as the more modern offerings such as toasted paninis, pasta dishes and salads, you can also get a traditional cream tea here.
We opted for one after our morning in the castle. We had warm scones with strawberry jam, clotted cream and a pot of tea. Perfect in the crisp autumnal weather.
Shops for souvenirs
Windsor town centre is a combination of a standard shopping centre and more traditional tourist type shops. So, if you fancy a bit of clothes and food shopping, or forgot your toothbrush, you won't find it hard to pick something up.
There are, however, a few places to pop into if you're looking for souvenirs to take home. Church Street is an obvious spot, but also try out the Windsor Royal Station shopping centre.
The centre is itself worth popping into, even if briefly: a grade II listed railway station, you enter under a grand historic arch (the Jubilee Arch). Inside is Queen Victoria's Royal Waiting Room (now All Bar One), the place where she would wait for her train.
The older part of the station/shopping centre felt a little run down to me. But it's definitely still a centre of activity during the day, with its shops, cafes and bars. You'll also find the tourist information centre here.
Walking through the station will then take you down to an open shopping parade, with more cafes and shops, as well as a few high-end clothes shops.
On the road that runs down the side of the castle to the river, you'll find the Windsor Fudge Kitchen Shop. We made a point of finding it, having read about it on several other websites.
It's very small and easy to miss, but it's worth taking a look. They have several different flavours of fudge on offer and if they're not busy, will happily talk you through what makes their recipe so unique.
You can also see parts of the back room where it's still being handmade on the premises and try a couple of tasters. If you like it (we did), you can then buy big wedges to take home, or order online.
Taste the local beer
If afternoon tea is not for you, you could try some locally brewed beer.
The Windsor and Eton brewery offers tours where you can learn about the brewing process and taste some beer. The brewery's website says that you will enjoy "a fun, informative and tasty insight into one of Britain's oldest and most thriving traditions".
Note, however, that you need to prebook, and at the moment tours only take place on a Saturday. So check out their website for more details.
If your visit doesn't coincide with a day when a tour is running, you can also buy some of their beer online. Alternatively, visit the George pub on Eton High Street to try some out.
Entertain the children at Legoland
Self-billed as the "UK's Favourite Kids' Theme Park", Legoland is about a 20-minute drive from Windsor. So, it's an ideal place to take the children if you're visiting the area.
The park has a number of different rides that children will undoubtedly love. This includes a flying dragon, a boat ride through a fairytale forest or on a Viking boat, and a trip on a hot air balloon (to name just a few – there are many, many more listed on their website). There's also the Legoland Express which will take you on a train through the park.
At the moment, the park promises to make Christmas special for its tiny visitors. There will be Christmas trees, lights, a pantomime and of course, Father Christmas.
More information on the things to do at the park and how to get there can be found here.
If you want to take a trip specifically to Legoland from London, click here.
Further information for your day trip to Windsor
Tours of Windsor including the hop-on-hop-off sightseeing bus
There are tours that you can take when you're in Windsor. These are particularly good if you arrive by train and don't have a car.
The hop-on-hop-off sightseeing bus would be good for this, with its 11 stops around Windsor and Eton. If you then want to go into the castle, click here.
You can also combine a visit to Windsor with visits to other places of interest. This tour takes you to Windsor, Stonehenge and Bath.
Alternatively, there's this tour, which combines Windsor, Oxford and Stonehenge.
This trip combines Windsor Castle with Hampton Court (if Hampton Court is somewhere that might interest you, see my recent post on a day trip here).
How to get to Windsor
Being so close to London, it's really easy to day trip to Windsor. Trains depart from London Paddington to Windsor and Eton Central station and take between 20 and 35 minutes.
You can also travel from London Waterloo to Windsor and Eton Riverside station in around an hour. Click here to check out train times.
If you're driving, you can get to Windsor in under an hour via either the M4 or A40. The town is also only 12 miles from London Heathrow airport.
Where to stay in Windsor
You can easily see the main sights during a day trip to Windsor. However, if you do want to stay overnight and see more of what is on offer, then there are plenty of places where you can stay.
These range from budget accommodation to more luxurious hotels.
We stayed in the Travelodge. Situated in King Edward Court, it's literally in the main shopping centre, 5 minutes from the castle. It couldn't be more convenient.
It's also next door to a multi-storey carpark which is really handy if you're driving here. Parking costs £20 for 24 hours, but you can get a £8 discount from Travelodge by getting your tickets stamped in the hotel.
It's true that this hotel is not the height of luxury and is quite basic. But it's clean, conveniently located and good value for money. It's a great place to stay if you'd prefer to spend your money on sightseeing, rather than your bed!
Other value for money hotels include the Holiday Inn Express which is less than a 15 minute walk to the Castle.
The Macdonald Windsor Hotel. This is situated on the High Street, literally opposite the Castle. It is another ideal location if you want to be in the heart of Windsor. It gets good reviews on TripAdvisor.
For luxury, you could also opt for the Christopher Wren Hotel and Spa. This has views out over the river and would be a good option if you want to spend some time chilling out or combining sightseeing with a spa break.
If you're staying for more than a night, you might want to consider The Oakley Court.
This is located slightly outside the town. But it is set in lovely grounds by the river and has bikes that you can rent to cycle into town. It also has a gym, an indoor swimming pool, tennis courts and a nine-hole golf course. It gets really good reviews on TripAdvisor.
To explore more options, click here.
Where to eat in Windsor
You might think that for a place made famous for its connections to the Royal Family, you'd only be able to get traditional British food. But for a relatively small town, there's a remarkably generous choice of food outlets offering a variety of different cuisines.
In addition to the pubs serving food – there are the aptly named Duchess of Cambridge, Prince Harry Windsor and Henry VI – there are several Italian restaurants and several Thai restaurants. You can also head out for some Indian food on the High Street.
For views over the river, try Cote Brasserie on the Eton side of the bridge. Along the high street in Eton, there's also Bel and the Dragon, which gets good reviews, as does Gilbey's bar and restaurant.
As mentioned above, there are also cafes where you can enjoy afternoon tea in Windsor. I'd recommend the Clarence Brasserie and Tea Room on Church Street.
To check out local restaurants and their reviews, click here.
The best time to visit Windsor
Given the UK's temperate climate, you're more likely to get warmer and sunnier days if you visit between late spring and early autumn. The days are also longer which means you will have more time for sightseeing, especially if you are only visiting Windsor for the day.
However, a trip to Windsor later in the autumn is also a good time to visit. At this time of year, you'll get to see the fantastic colours of the leaves falling from the trees in Great Windsor Park and Savill Garden.
Equally, a winter excursion would be well worth it. The small historic streets of Windsor and Eton would be picture perfect over the Christmas period or during the crisp winter days in January and February.
Is Windsor worth visiting?
People often ask: is Windsor worth visiting? Or is Windsor worth visiting even if you're not a fan of the Royal Family? I'd say a definite yes to both of these questions.
There's plenty to do on day trip to Windsor, even if you don't visit the castle. It's a pleasant place for a day out, with its river, boat trips, quaint streets and tearooms. There's also the magnificent Great Windsor Park with the Long Walk to wander through.
I'd also advise not writing off Windsor Castle, even if you're not a Royalist. It's a fascinating historic building to explore regardless of your views.
A one-day itinerary: what to do in Windsor
If you're planning on visiting Windsor for the day, I'd suggest you arrive early enough to make the most of your time.
Below covers what to do in Windsor if you only have one day and the main things I'd prioritise. But you can obviously substitute in your favourite things.
Or you may just be visiting the town for a day trip to Windsor Castle and if so, bookmark the rest for another day!
A day trip to Windsor: what to do in Windsor
I hope this has given you a flavour of what to do in Windsor and the main things to do on a day trip to Windsor.
If you're visiting London or southern England, you might also find some of my other posts of interest:
For other ideas for short trips, visit my website.
Lead and featured image: © David Iliff/ Dreamstime.com