Day trips from London by train: Strawberry Hill House
By Emma Marshall
This post contains affiliate links, including for Amazon; as an Amazon Associate I earn from qualifying purchases
I recently wrote about my day trip from London by train to Portsmouth. My next trip was much more local: an afternoon at Strawberry Hill House in south west London.
As its name suggests, Strawberry Hill House can be found in Strawberry Hill, a few minutes' walk from the River Thames in the London borough of Richmond Upon Thames, and not far from Twickenham.
Surrounded by a small garden, the house is a stunning gothic mansion. It originally belonged to Horace Walpole, the son of Sir Robert Walpole, Great Britain's first Prime Minister.
It's a perfect day trip from London by train.
Read on for more information.
What is the history of Strawberry Hill House?
Horace Walpole's Chopp'd Straw Hall
The history of Strawberry Hill House starts with Horace Walpole's desire for a summer residence. Having found a suitable place in 1747 in a popular and fashionable location by the river, he set about creating his ideal home.
Known originally as Chopp'd Straw Hall, Walpole retained the house for 50 years until his death. During that time, he changed its name, extended the building, and transformed its architecture.
This is now apparently known as "Strawberry Hill Gothic". You'll get to see why it was aptly named this as you walk through the house on your visit.
Aside from his skills in design and renovation, Walpole also wrote essays and novels and was a public letter writer. This gave him a public profile and resulted in some famous and influential visitors to the house.
The Earl of Waldegrave and the "Great Sale of 1842"
After Walpole's death, the house passed down to various family members. This included the 7th Earl of Waldegrave and his wife, Lady Frances Waldegrave.
As you walk around the house, a story you will hear a lot from the excellent guides is the "Great Sale of 1842". The Earl of Waldegrave, having got into financial trouble, decided to sell the contents of the house to raise some much needed funds. Various works of art, pieces of furniture, and even the building's windows were catalogued, ready for auction in the garden.
The sale took place over about a month with most of the valuables being sold off. The wonderful house was pretty much emptied.
Lady Frances Waldegrave
When the Earl died, his wife set about restoring and expanding the house. This apparently also included major alterations to the road leading up to the house.
It meant that she could entertain guests once again and made the local landmark famous again (future Prime Ministers like Palmerston and Gladstone were later visitors).
Later ownership of Strawberry Hill House
In 1923, the house was bought by the Catholic Education Council. It suffered extensive damage during World War II, however, and needed significant restoration work.
It was then leased to the Strawberry Hill Trust from 2007 and benefitted from a £9m make over.
The house was finally reopened to the public in 2010, having been restored as much as possible in line with Walpole's original design. You can see his hand drawn designs that informed this project when you move through the different rooms.
What's unique about Strawberry Hill House?
What's not unique about Strawberry Hill House? You'll realise this immediately as you turn off the road, walk through the gate, and enter the garden.
The main part of the house is striking: a white building with stained glass windows, turrets and a small tower.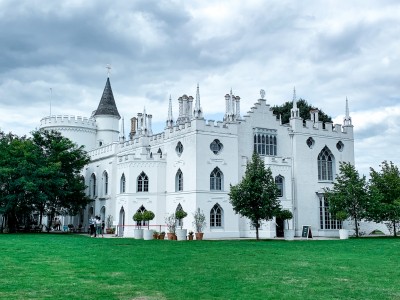 Walpole's aim was to create a "little gothic castle" and it really is just that. It was pretty obvious to us at this point that it was worth coming for a visit.
However, the outside is nothing compared to its spectacular interior. Once inside, you're taken on a journey through the house – between rooms and up and down stairs – that will just amaze you.
Each room is bathed in a different colour, some of which are incredibly striking. There are stunningly beautiful windows and eye-catching glass features.
There are ornate fireplaces and carvings around door frames. And there is art hanging everywhere, as well as vintage furniture.
While you're taking all of this in, make sure you remember to look up. You mustn't miss the intricate, colourful and geometric ceilings throughout.
There were genuinely several occasions when I thought it couldn't get better. But I was wrong every time.
The guide that I bought during my visit says that the house gave "an opportunity for Walpole to develop his love of irregularity, surprise and mystery". Visit and you'll appreciate this first hand.
And, if you like architecture and interior design, you'll absolutely love this place.
The hall and Great Parlour
The hall is the first place you come to after showing your ticket in the entrance hall. It's a small space at the bottom of the stairs.
The unique style of the staircase was apparently influenced by one in Rouen Cathedral in France. Look up and you'll see a lovely stained-glass lantern hanging above you, as well as the carvings in the sides of the staircase.
On the same level is the Great Parlour. This was the one (of many!) times when I walked into a room and was immediately in awe of my surroundings.
The room is beautiful. There is a selection of art hanging from the walls and a cream coloured gothic fireplace on one side.
But for me it was the room's wide-open space, coupled with the floor to ceiling glass window – with its restored cobalt blue panes at the top – that was the clincher.
I could just imagine what it was like to be in that room with the sunshine flooding through the windows.
The library
Having been wowed by the first room I'd entered, we then went into the Strawberry Hill library for another pleasant surprise.
This is a darker, slightly more cramped room, by virtue of the bookcases that line every wall and which are full of old books. But the arched bookshelves themselves are just lovely – more gothic features and another fireplace.
Living rooms and bedrooms
The next few rooms we visited were smaller. As the different guides stationed in the rooms explained, they were all used for different purposes throughout the history of the house, depending on the owner at the time.
One of the rooms was quite dark, with three windows, again with arched stained-glass toppers. There was a small green room with a desk in the corner and a red room with another ornate fireplace.
And there was a gorgeous bedroom, with brilliant blue walls, yet more ornate windows, and a four-poster bed. It is a copy of the one in which Sir Robert Walpole died in, in 1745.
The printing room
Another room has been kitted out to demonstrate Strawberry Hill House's role in the history of printing in England.
A decade or so after moving into the house, Walpole set up the first private printing press. And although this was originally in a cottage in the grounds, a room here showcases this with a model press and printer.
The Holbein Chamber
Moving on, we came to the Holbein Chamber. This room takes its name from portraits that were created from original Holbein drawings.
This is yet another stunning room. It has a pale purple/ mauve colour and is sectioned into two by an arched divider. In one part, there had been a four-poster bed.
In the remaining, larger section, there is a beautiful fireplace on one side. There is also a deep and wide bay window with the ubiquitous decorative windows that are scattered throughout the house.
The Gallery
Next was the Gallery. Because of the route we took through the house, we visited this late on in our tour. And if we thought we'd seen the best with some of the previous rooms, then we were wrong.
This long narrow room is absolutely gorgeous. It feels more like a corridor than a room in its own right, but that doesn't take away from how utterly amazing it is.
The colour scheme here is red and gold and there are ornate recesses and fireplaces along one side with small mirror panes that reflect the light.
The fan vaulted ceiling – made from papier mache and inspired by one in Westminster Abbey – is also gold and only adds to the sense of opulence throughout.
It's not hard to see that this was the room for entertaining in Strawberry Hill House.
The guide in the room when we visited told us that because of the dancing that was to be done here, Lady Waldegrave replaced the floor to a more suitable one. She purchased the one you can see today from a Parisian villa.
The band apparently played below on the ground floor and music would flow upstairs to entertain the visitors.
The Tribune
Just to the side of the Gallery is the Tribune. When we were fully inside, the guide closed the door behind us.
Along with its name (drawn from the treasure room in Florence's Uffizi Palace), this was a demonstration of the role that this room played.
The room was basically a little treasure trove: a place where Walpole could lock away his most prized possessions. And it's another room where just looking at the walls, ceiling and windows will leave you in awe.
The Round Drawing Room
We left our tour via the round drawing room, another brightly coloured room – this time painted an exquisite red.
Here you'll see one of the most ornate and decorative windows in the house (and there's some competition for this!). The stained glass is truly amazing – and something that Lady Waldegrave apparently takes the credit for.
There's also another memorable ceiling in this room.
What else you can do at Strawberry Hill House?
Aside from the actual house, you can also wander around the garden. It's not very big – it was apparently much larger before more recent development in the area – but, weather permitting, it's a nice spot to sit after your visit.
There's also a small café with a few tables outside. There are decent, clean, toilets for visitors to use and a small souvenir shop to peruse.
The house sometimes hosts talks and evening events. It can also be hired for private events or weddings. In the summer, it hosts the Strawberry Hill Flower Festival.
Check out the "what's on" page of their website for more details.
When can you visit Strawberry Hill House?
The house and garden are open every day except for Monday from 11am to 4pm. The café opens one hour earlier on these days.
Note that because of Covid-19 restrictions, you need to book in advance.
We did, however, find that this worked to our advantage. Because some of the rooms and corridors are small you enter each one in your own group only.
With a volunteer in each room – all of whom I have to say were amongst some of the most knowledgeable volunteers I've ever met in a museum – you're basically getting a personal guided tour through the entire house.
How much is entrance to Strawberry Hill House?
Adult tickets are £12.50. Students can visit for £6.25 and under 16s are free. There are also a number of concessions for different groups: see the website for more information.
It is free to wander around the garden.
How do you travel to Strawberry Hill House?
A visit here is an ideal day trip from London by train or from nearby counties. The nearest train station is Strawberry Hill, which is 35-40 minutes from London Waterloo.
Other information on Strawberry Hill House
I visited Strawberry Hill House in August 2020. I learnt a lot of the information covered here from discussions with the volunteer guides.
However, I also purchased John Iddon's "Strawberry Hill and Horace Walpole Essential Guide" in the souvenir shop.
If you enjoyed your trip to Strawberry Hill House, it is worth purchasing this for the added information it provides. The website also provides fascinating information about its history.
Other ideas for day trips from London by train and UK short breaks
If you enjoy visiting other historical houses such as Strawberry Hill House and that are a short day trip from London, you might be interested in visiting Hampton Court Palace or Windsor Castle.
You can also visit the Tower of London and the Crown Jewels.
For more information on day trips and short UK breaks, see my other posts on this topic:
Pin it!