Portsmouth attractions: The Portsmouth Historic Dockyard
If you're researching Portsmouth attractions to help you plan a trip, there are lots to choose from.  It's a city rich in maritime history, and its location on the English south coast means that you can easily combine a cultural visit with a day out at the beach. 
One of the top things you should definitely put on your list of Portsmouth attractions is the Portsmouth Historic Dockyard. 
Located just minutes from Portsmouth Harbour railway station, it's an easy day trip from London by train, or a fascinating place to visit as part of a weekend break. 
And with a number of different things to explore both within the dockyard and beyond, you won't be disappointed.
This post contains affiliate links
Read on for more information on things to do in Portsmouth dockyard. There are over ten places to visit during your trip!
You can buy tickets to all attractions here.  
And you can find more information on the Dockyard in my post below.
This book also provides an insight into the history of the Dockyard.
Portsmouth attractions: things to do in Portsmouth Dockyard
The Portsmouth Historic Dockyard is part of the HM Naval Base.  It contains a number of different attractions showcasing the city's role in maritime history, both past and present. 
HMS Victory
HMS Victory is located right next to the Mary Rose Museum, towards the back of the dockyard. These are two things you definitely won't want to miss on your visit here.
If, however, you choose to prioritise other sights, I'd still advise you to pop along to take a look at Victory from the outside. 
You'll also get to see the massive – and incredibly striking – statue "Embracing Peace" by Seward Johnson, currently on loan to the dockyard.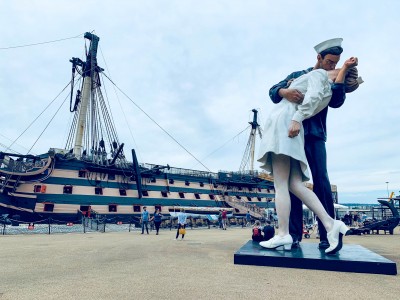 HMS Victory started her service in 1765 and took part in a number of battles. Perhaps most famously, she was the flagship of Lord Nelson and was prominent player in the Battle of Trafalgar that defeated French and Spanish naval forces in 1805.
In 1922, she was put into dry dock in Portsmouth and is apparently the "oldest commissioned warship in the world".
It's worth seeing Victory because there's so much to learn about her history. 
It is also worth seeing her because she is a beautiful ship.  There are several vantage points where you can see the entire ship and appreciate her impressive design.
Inside HMS Victory
You can climb onto HMS Victory and explore its incredible interior. This takes you through the different levels of the ship and gives you a really good perspective of life on board HMS Victory.
Start at the top and the open-air deck: this vantage point provides  you with an excellent view across the rest of the dockyard. 
Below one level is the lower gun deck where lines of canon and guns still remain.  Most are replicas, but there are still eight original guns.
You can then work your way down through the ship exploring the different sections. As you do this, you'll appreciate the cramped conditions in which the sailors lived and fought, and see reconstructions of the kitchens, medical surgeries and other working spaces. 
As you venture further down, the living space gets smaller on each level and increasingly darker.  This adds to the atmosphere and reinforces the sense of overcrowding on the ship.
By contrast, you can also visit the more elegant living quarters of the Admiral.  There are sections with comfortable chairs and desks for writing, a bed, and a dinner table laid out for a meal.
The Mary Rose Museum
Situated right by HMS Victory, the Mary Rose Museum is dedicated to the ship of the same name.
The Mary Rose was Henry VIII's ship and sank in 1545 whilst defending the country against the French during the Battle of the Solent. She sank quickly with 500 men on board.
Those of us of a certain age will remember her well.  In 1982 the hull of the ship was famously raised from the seabed. People around the world stopped to watch this incredible feat on TV (apparently 60 million people tuned in).
The public were then able to visit the parts of the ship that were recovered. They could see a large section being continuously sprayed with water to stop further deterioration. 
Inside the museum
Having recently returned to Portsmouth, I visited the ship in the new museum and learned more about her preservation in the intervening years (including the fact that she no longer needs to be constantly wet).
The main attraction is undoubtedly the remains of the ship itself.  You can walk past her in the main section on several levels and admire her from different angles. 
The ship is atmospherically lit up periodically and a sound track recreates the past.  To see it from such close angles gives you a better appreciation of just what a feat it was to raise the Mary Rose from the seabed after so many centuries.
Alongside the enormous glass display housing the ship's remains are collections of objects and artefacts from Tudor times. 
These were again excavated from the seabed and with that in mind are pretty amazing in terms of their current condition.  Some have been immaculately preserved and appear to have suffered very little damage.
The Ship Gallery displays images of the Mary Rose as she might have looked back in the 16th century, as well pictures of her remains after they were raised.
There is also information on the search for the Mary Rose and its subsequent excavation, along with efforts to preserve the remains that still lie on the seabed.
For me, this is an unmissable part of the dockyard: even if you're not fanatical about ships and boats, the museum provides some fascinating information on a significant scientific excavation.
These books can also supplement your visit here with further information on the Mary Rose.
HMS Warrior 1860
A second warship that you can discover more about is HMS Warrior 1860.  You can see this impressive ship moored at the dockyard's entrance. 
As its name suggests, the ship was launched in 1860 during the reign of Queen Victoria.
Warrior was an iron-hulled armoured warship, the first of its type.  Her design was a response to a French warship that was being built and made her one of the "fastest, largest, strongest and most powerfully-armed warships in the world". 
HMS Warrior 1860 undertook active duty for only a short period, between 1862 until 1883.  After various changes of name and function, she was repaired and refurbished and arrived in Portsmouth in 1987.
Inside HMS Warrior 1860
When you visit Portsmouth Historic Dockyard, you can step onto HMS Warrior and explore her different sections. She has been fitted out to recreate life back in the 1860s and amongst other things, you can explore four decks, the galley, the jetty and the cabin used by the captain.
Actors wearing Victorian costumes are stationed around HMS Warrior to help bring her stories to life.  There are also opportunities to try out more-interactive activities such as sword-fighting.  Children will love it here!
The Royal Navy Submarine Museum
This is one of two attractions based outside of the main dockyard area. It centres on HMS Alliance which is located in nearby Gosport.
HMS Alliance is the only British submarine from World War II that remains. So, if you're interested in the world wars or in submarines, this is an ideal place to visit.
You can explore the inside of the submarine, see where the submariners lived and slept and also take a look at the equipment on-board.
As well as the submarine, the museum contains a variety of historical displays, as well as an exhibition about the "Silent and Secret" Polaris submarines.
Although the museum is in Gosport, there is a free waterbus that crosses the harbour from the Portsmouth side.
HMS M.33
A visit to HMS M.33 offers visitors another opportunity to see a significant warship. HMS M.33 is one of only three British warships still remaining from the First World War.
Working in the admiralty at the time, Winston Churchill ordered her to be built in 1915 and she went on to serve in the 1915 Battle of Gallipoli and in Russia in 1919.  She became a visitor attraction in 2015.
Given her younger age and advancements in materials used for warships, HMS M.33 (in my opinion) isn't as beautiful from the outside as HMS Victory or HMS Warrior: she is more reminiscent of those we might see in operation today.
However, like the other ships, it's fascinating exploring its interior: you can see how the crew lived and worked and the equipment they used.  Beds are made, tables are laid and offices are kitted out, giving you a real sense of what life was like onboard.
The Explosion Museum of Naval Firepower
This is the second attraction that is located in Gosport across the water.
The site is the place where gunpowder was stored in the late 1800s and where ships stopped off to stock up on ammunition and guns. It was last used for this purpose during the Falklands War in the early 1980s.
In addition to various displays and artefacts, the museum is an interactive one with various activities that will particularly appeal to children.
As with the Royal Navy Submarine Museum, there is a free waterbus that runs from the dockyard to Gosport.
Portsmouth harbour tours
Depending on which ticket you purchase (see below), you might be able to also hop on the Portsmouth harbour tour. You can pick this up from near the entrance to the dockyard.
The tour lasts for around 45 minutes and is a brilliant way to see most of the dockyard area from the water.  You go past many different types  of ships, including destroyers and aircraft carriers, and get to look out to Portsea Island with its castle.
There's also an uninterrupted view of the Spinnaker Tower from the boat.  This is ideal if you're after some photos of the tower without the Gunwharf Quays buildings in the foreground.
As part of your Portsmouth harbour tour, one of the crew provides information on the sights via an overhead tannoy. 
We thoroughly enjoyed sitting on the outside deck in the sunshine (on the day we went at least!).  It was a relaxing afternoon and great way to learn more about the history of the city and dockyard after a few hours of being on our feet. 
If you can, I'd try to buy a ticket that includes the boat trip.
Other things to do in Portsmouth Dockyard
I've covered seven of the attractions here, and so there are others you might also be interested in.  These includes the National Museum of the Royal Navy, Action Stations, and the Victory Gallery. 
There is also a Laser Quest centred around a shipping container and a Horrible Histories Pirates exhibition, both of which would suit families visiting with children.
There is no shortage of places to eat and drink during your visit.  This includes picnic areas if you get a warm and sunny day and fancy taking your own food.
And if you want to buy a few souvenirs to take home, there are gift shops that you can pop into.
Portsmouth attractions: buying Portsmouth Dockyard tickets
There are several different types of tickets and your choice will depend on what you want to see and how much time you have. Also, think about whether you are likely to return to Portsmouth at a later date.
A single attraction ticket is valid for one day and costs £24 for adults and £19 for children.
A three-attraction ticket is valid for a year and allows you to visit your three chosen attractions multiple times within that 12-month period.  It does not, however, include the Portsmouth harbour tour.  It costs £34 for adults and £24 for children. 
The Ultimate Explorer ticket permits access to all attractions – including the harbour tour – and also allows multiple returns to the site within a year.  It is £39 for adults and £29 for children. 
You can also purchase family tickets (e.g. for two adults and up to three children, this is £120).
We bought the Ultimate Explorer ticket.  Although on face value it might seem quite pricey, when you consider how many attractions you can access with it, and the fact that you can return as many times as you like in a year, it's excellent value for money. 
The fact that it's only £5 more than the three attraction tickets – and you get 7 more attractions thrown in – is what sold it to me.
Click here to buy Ultimate Explore tickets. 
Portsmouth harbour hotels
If a visit to the dockyard is one of several Portsmouth attractions you have planned, then you may want to stay overnight.  There are plenty of places near the dockyard that would be ideal:
How to get to Portsmouth Historic Dockyard
The dockyard is just a few minutes' walk from Gunwharf Quays, a shopping and entertainment centre in the dockyard area.  It is also just a few minutes' walk from Portsmouth Harbour Station. 
Portsmouth is less than 75 miles from London and so driving will take less than two hours via the A3 road. It is around 20 miles from Southampton and around 50 miles from Brighton.
If you are travelling by train, there are a number of train stations you can arrive at. However,  if you're visiting the dockyard, then you need to catch the train to Portsmouth Harbour station. This comes out right by Gunwharf Quays, just a few minutes' walk away (you'll see HMS Warrior as you exit the station on the left).
South Western Railway runs trains to Portsmouth from London Waterloo.  The journey takes between about 1 hour and 40 minutes and 2 hours.  Southern Trains run from London Victoria station.
Other ideas for UK day trips and weekend breaks
If you're visiting Portsmouth and are interested in other Portsmouth attractions, you may also be interested in a trip up the Spinnaker Tower.  See my previous post for more details.
Other posts you may be interested in include:
As an Amazon Associate, I earn from qualifying purchases