Things to do in South West London
If you're looking for days out in London – whether that's because you're visiting the UK's capital or because you're on a UK staycation – there is a wealth of things to do in south west London.
You are spoilt for choice when it comes to parks and palaces, museums and galleries, not to mention areas with wildlife or relaxing walks along the River Thames.
The challenge will be narrowing down what you choose to do.
Read on for my selection of some of the best things to do in south west London.
Written by Emma Marshall
This post contains affiliate links
Where is south west London?
Geographically speaking, south west London extends from the central areas like Chelsea and Victoria, down to areas in the south such as Clapham and Battersea. It also takes in westerly parts of the city, notably Wimbledon, Kew and Putney.
The River Thames flows through the more northerly and central part of south west London.
Getting around south west London
South west London is served by tubes, trains and buses. What transport you catch will depend on which attraction you're planning to visit as some areas are only served by overland trains; the underground (tube) doesn't cover all of south west London.
You can also drive to some of the attractions, or catch a taxi. But given the traffic in the city, (especially if you're travelling during rush hour), it's sometimes quicker to reach destinations by public transport. You may also struggle to find parking close to some of the top sights.
Click here for information on the London public transport system and to book tickets.
The top things to do in south west London
There's so much to see and do here.
Below I have set out some of the top things to do in south west London.
Visit the beautiful Royal Botanic Gardens at Kew
The Royal Botanic Gardens at Kew is a must if you're in London. I've put it as the first entry on my list, as it really is one of the top things to do in south west London.
Located close to Richmond upon Thames, it's a UNESCO World Heritage site that covers over 300 acres which, according to the website, "has one of the most diverse collections of living plants of any botanic garden in the world".
There are also many other attractions to see in its grounds which could easily fill a whole day.
What to see in the Royal Botanic Gardens, Kew
As there is so much to see, the best thing to do is grab a map when you arrive and plan out which attractions you want to explore in the extensive grounds (you can click here to download one).
There are several different gardens to explore. These include the Mediterranean Garden with pines, cypresses and lavender plants. In the middle is King William's Temple, commemorating William IV.
You will also find a Rose Garden, Winter Garden and Rock Garden, all showcasing different plants, shrubs and flowers. These can be found close to the Princess of Wales Conservatory.
The Conservatory is a glasshouse that contains different ecosystems and their associated flora (e.g. dry zones with cacti, steamy zones with tropical flowers and an area containing carnivorous plants such as the Venus flytrap).
Nearby you will also find a section on aquatic plants.
From here, you can walk around to The Hive. This is a 17-metre high wire installation that you can walk up into. It is designed to emulate a beehive, with buzzing sounds and flickering lights.
These apparently glow and flicker in keeping with the bees that buzz around Kew Gardens.
A short walk further on is Kew Palace, a modest (as palaces go!) 17th century red building. In the early 18th century, George II and Queen Charlotte took up residence in the palace. You can visit it during the summer months.
If you want to stretch your legs a bit, you can wander up the leafy Syon Vista to the pond. The walk will take you past some of the garden's 14,000 trees.
The area surrounding the pond is really peaceful. There are benches where you can take the weight off your feet and watch the birds on the water.
When we visited, there were ducks (complete with a little family of ducklings), moorhens and a massive swan milling about nearby.
You can then cross over the Sackler Crossing bridge and make your way back to the main section of the gardens. This is likely to take you near to the Treetop Walkway, where you can walk 18 metres high above the gardens and look down.
You can then skirt around to the Japanese part of the garden. This comprises three sections: a Garden of Peace, Garden of Harmony and Garden of Activity.
These are said to symbolise and represent different things, including a Japanese tea garden, the natural world, and the harmonisation of different landscapes.
The striking 18th Great Pagoda is also located in this area. This was designed for the Royal Family and stands 50 metres high looking out over the gardens.
You can climb to the top if you're brave enough (or fit enough to tackle the 253 steps!). But if you don't fancy this, I'd still recommend taking a look.
Last, but certainly by no means least, there are two spectacular glasshouses that you must see when you visit Kew.
The Temperate House is the world's largest Victorian glasshouse and houses over 10,000 plants from temperate zones around the world.
By contrast, the Palm House houses tropical plants. It is described on the website as an "indoor rainforest" and the tropical heat inside makes it a perfect place to duck into if you visit during the winter months.
Try to explore inside the glasshouses if you can. If not, then it's still worth seeing these beautiful structures from the outside.
There's a lake by the Palm House: grab a seat on one of the benches and end your trip relaxing and appreciating everything you've seen in Kew Gardens.
Visiting Kew Gardens
You can enter Kew Gardens through several gates. Depending on which one you choose, you can reach the gardens by train (from London Waterloo to Richmond station or Kew Bridge station, a journey time of around 20 and 30 minutes, respectively).
You can also take the London Underground to Kew Gardens station on the District Line and from there it's a five minute walk to the nearest entrance gate.
Alternatively, you could drive, although parking spaces may be limited at peak times.
The gardens are open from 10am every day and close at 7pm during the week and 8pm at weekends.
There is more than enough to do in the gardens to devote an entire day exploring the grounds. If you do decide to do that, there are cafes and restaurants dotted around, and clean toilet blocks.
But if the weather is fine, I'd suggest taking a blanket and some food and finding a secluded spot in the garden to picnic in.
Explore the historic Hampton Court Palace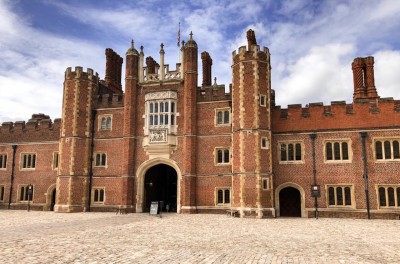 One of the most famous palaces in Britain, King Henry VIII's sumptuous residence on the River Thames is another top site in south west London.
You will discover fine architecture spanning different historical periods, elegant rooms filled with art treasures, beautiful courtyards, and the UK's oldest surviving hedge maze, all sitting in more than 60 acres of gardens.
Again, there's so much to do that you could easily spend a whole day exploring this major attraction.
The palace has a long history that stretches over seven centuries, as detailed in my earlier post.
The earliest sections of the palace are Tudor and date from the late 15th century. Cardinal Thomas Wolsey then expanded it, but when Henry VIII removed Wolsey in 1529, he himself spent lavishly to create surroundings fit for his royal needs.
Successive royals made minimal changes until William III (William of Orange) and Mary II's reign from 1689-1702 when the palace was partially rebuilt at enormous cost.
Designed by Sir Christopher Wren, the architect behind London's St Paul's Cathedral, an elegant baroque palace was constructed beside the original Tudor palace. Later royals made adaptions to existing rooms, but no major building work took place over subsequent centuries.
What to see at Hampton Court Palace
Some of the highlights include seeing Henry VIII's State Apartments and learning about the palace's Tudor period. The Great Hall – the largest room in Hampton Court Palace, and undoubtedly one of its main draws – is top of the list.
This is where Henry VIII entertained guests. It has a stunning hammer-beam roof and elaborate stained glass windows. It's also decorated from the floor to ceiling with royal symbols and tapestries line the walls.
There is also the Haunted Gallery. This is named after Henry VIII's fifth wife Catherine Howard who was the second (and final) one to be beheaded.
Apparently, her ghost roams the long corridor (hence the name). It is lined with beautiful tapestries and paintings.
The Georgian sections of the palace include the Communication Gallery, a long corridor displaying portraits. There's also the separate Cartoon Gallery which was built during William III's reign.
This was one of the first picture galleries in Britain where you can view copies of Raphael's cartoons.
Outside, you will attractive courtyards, cloisters and fronts dating from different periods in the palace's design. In Clock Court, if you look up above the Anne Boleyn Gateway, you'll see the palace's famous 500-year-old astronomical clock.
On the east side, you can marvel at the architectural splendour of the East Front.
My guidebook stated that "Sir Christopher Wren's design is probably the best expression of the Baroque style in England".
The palace is surrounded by 60 acres of beautiful gardens.
The main highlights include the Privy Garden (the king's private gardens), the Pond Garden, Great Fountain Garden, the Great Vine (apparently the largest known vine in the world). There is also Home Park, notable for its canal (The Long Water).
You'll also find the famous maze which was planted at the turn of the 18th century. The section that you can visit is apparently the only part that remains of the original layout, but still covers a third of an acre.
According to the palace's website, it has a trapezoid shape and takes 20 minutes to complete (if you don't get lost!).
For children, there is the Magic Garden where, according to the website, they "will come face to face with mysterious beasts, storm the battlements, besiege the towers and explore the secret grotto".
Visiting Hampton Court Palace
Adult tickets to visit the Palace (which includes access to the gardens) are £24.50, while for children (aged five to 15) it is £12.20. The maze can be visited separately for £4.50 for adults and £2.80 for children.
The opening hours for the palace depends on the season; visitors should consult the website for more details.
You can get to Hampton Court Palace by train from London Waterloo to Hampton Court. Get off at Hampton Court station which is only a five-minute walk across Hampton Court Bridge to the Trophy Gate.
Spaces for parking at Hampton Court Palace are limited, so taking the train is recommended.
Cycle around Battersea Park
A visit to Battersea Park is another of the top things to do in south west London. It sits alongside the River Thames in a beautiful setting.
Covering 200 acres, it's a large park and the perfect spot to cycle around. Not only is this a pleasant activity in its own right, but it means you can cover more ground inside the park and see more of the different activities. There are wide open paths and it helps that it is flat.
If you don't have your own bike, you can hire one in the park. London Recumbents charge £12 an hour and there is no need to book in advance (although at busy times, it might be advisable).
Or you could hire one of the Santander Cycles that you'll find docked throughout central London.
You can then head off to explore. If you're not sure where to go, the route on this website is worth checking out.
A cycle will take you past the main sights in Battersea Park. This includes the London Peace Pagoda, one of 80 pagodas worldwide which were built as part of a Japanese monk's peace work.
Gifted to London in 1984, the Peace Pagoda is striking. It is over 33 metres high, with bronze statues of the Buddha on the outside and a large staircase leading up to it.
Sitting as it does by the river, it's a striking image in this leafy setting.
If you want to read more about the history of the pagoda, this article is worth a read.
There is also an attractive boating lake in the park. You can hire pedal boats if you fancy a change from cycling.
There's also a café alongside the lake for refreshments; it has outdoor seating for when the weather is warmer.
For children, there's a small zoo. Despite its size, you can see plenty of creatures including Asian short-clawed otters, Bolivian squirrel monkeys, emperor tamarin, as well as lemurs, wallabies, meerkats, donkeys, ponies and hedgehogs. The zoo also houses birds, reptiles and amphibians.
The zoo is located near to the Peace Pagoda and is open every day except Christmas Day and Boxing Day. Entry to the zoo costs £10.95 for adults and £8.95 for children over two years of age.
Other attractions include the old Victorian bandstand in the centre of the park, a mini golf course, a small art gallery and the "Three Standing Figures" sculpture by Henry Moore.
Inside the park, there are other areas for children to play in, plus a 'Go Ape' course (see below for more details).
If you're in London in early November, make a note in your diary to catch the famous firework display that takes place in the park grounds.
Visiting Battersea Park
The park opens at 8am and stays open until dusk.
It is located centrally on the south side of the River Thames. There are two train stations nearby (Battersea Park station and Queenstown Road station). The park is then a short walk away.
There are also buses that stop outside the grounds. As the park covers a large area, I'd suggest checking out the different bus routes in advance using the Transport for London journey planner.
You can also drive to the park and there are car parks close by. You can also reach the park by river boat.
Meet the wildlife in the London Wetland Centre
One of ten centres, the first of which was originally set up by Peter Scott, the son of Antarctic explorer Captain Scott, the London Wetland Centre in Barnes was opened at the start of this century. It is a nature reserve situated on the site of four old reservoirs.
If you're looking for somewhere to enjoy local wildlife while also getting some fresh air, then this is an ideal place. It covers over 100 acres of land, with pathways that take you past ponds, lakes and marshes.
It's ideal for birdwatchers and there are a number of hides scattered around the side of some of the marshes which visitors can use.
If this sounds interesting, then the Wetlands website has a "sightings" page where you can check out the latest species that have been spotted and time your visit accordingly. It also provides information on the type of birds that visit during the different seasons of the year.
For those looking for a leisurely walk, you'll still get the opportunity to see different varieties of birds and animals without having to tuck yourself away in a hide.
As you walk around you'll no doubt encounter some birds freely wandering through the Centre: when we were there, we had to interweave through several families of ducks and geese that were wandering across the pathways.
There are also otters swimming around in their pools. These are Asian short-clawed otters, which is apparently the smallest species of otter.
If you time your visit, you'll get to see these playful and talkative animals being fed. The children loved this when we were there and it is an opportunity to learn more about this otter species.
Visiting the London Wetland Centre
The centre is open every day of the year, except Christmas Day. Opening times are from 9.30am to 5.00pm.
Entrance fees are £13.40 for adults and £8.13 for children (children under four years of age can visit for free).
If you're travelling by train, go to either Barnes or Barnes Bridge station. From both, it's then a 15-minute walk, or a short bus ride.
The nearest tube stop is Hammersmith on the Piccadilly, District and Circle lines. You can then pick up a bus which takes you close to the Wetland Centre.
If you're taking the bus, numbers 33, 209 and 419 terminate just 100 metres from the Centre.
See the deer in Richmond Park
Richmond Park is another of London's Royal Parks, and covering an area of over 2,500 acres, it's the largest.
As you enter the park, you are immediately struck by its size. Due to its location, it is one of the only entries in this blog where driving to it is recommended (although it's not impossible to visit by public transport).
If you're a cyclist, I'd definitely recommend this option. There are plenty of opportunities to cycle around the lanes traversing the park. If you don't have your own cycle to hand, then you can hire one by Roehampton Gate.
Unlike the other parks and gardens mentioned in this blog post, Richmond Park is much wilder and much less manicured.
It's a deer park (created as such in the 17th century) so there are large wide-open spaces with scrubby vegetation and large forested areas where you can see these beautiful creatures roaming around.
There are said to be hundreds and if you're lucky you'll get to see them. Note, however, that as they are wild, you should not approach them: visitors are asked to stay at least 50 metres away for safety reasons.
As well as admiring the park's beautiful surroundings and its wildlife, there are some individual attractions worth seeing.
Isabella Plantation, a 19th century Victorian woodland garden, definitely deserves some time.
There are beautiful plants, flowers and shrubs here as well as streams and small lakes. It is apparently most famous for its azaleas.
Pembroke Lodge is also worth exploring, especially if you need a rest from walking around the park.
It's an attractive Georgian Mansion with attractive gardens and a terrace offering excellent views. The Butler's Pantry serves refreshments.
For history buffs, or if you want some spectacular views across London, then head for nearby King Henry's Mound.
This is said to be where the Henry VIII was able to see a signal from the Tower of London that his then wife Anne Boleyn had been executed and he could marry again.
Although the information on the website throws doubt on this story and that it's more likely to be a Bronze Age burial chamber, I would recommend the visit for the views alone.
Visiting Richmond Park
If you're driving into the park, it opens at 7am in the summer and 7.30am in winter. It closes at dusk.
Pedestrians can access the park 24 hours a day, except during the deer culling season (November/December and February/March).
Although a car is a bonus for getting here (and there are several car parks dotted around), you can reach the park by public transport.
There are several gates into the park, so plan out which part you want to go to first (for a map of the park, click here) and then plan your transport accordingly.
The Royal Parks website provides more information on options, depending on which part of the park you opt for.
See the animals and ride the rollercoasters at Chessington World of Adventures
Chessington World of Adventures bills itself as the "ultimate family day out" and it's true that there is really something for everyone here. There is a zoo, adventure rides, daily shows, as well as a Sea Life Centre.
If you're visiting for the wildlife, then you won't be disappointed. There are over 1,000 animals and birds, including lions, leopards, and tigers; monkeys and gorillas; giraffes, zebras and rhinoceros; and penguins – to name a few.
There is also a children's zoo where you'll find goats, rabbits and miniature donkeys.
If you time it right, you can look in on some of the feeding sessions or talks where you can learn more about the different animals.
You can also book 'VIP sessions' where you can get close up to the animals. These include feeds with a giraffe or a penguin, a trip on an African safari, or becoming a junior zookeeper for a few hours!
In the Sealife Centre, in addition to various species of fish, there are rays, starfish and seahorses. There's also the ocean tunnel with different species of sharks.
Chessington isn't just a wildlife centre though. It's also a theme park and there are over 40 thrilling rides here that you can experience.
There's the "Vampire" rollercoaster that takes you above the tops of trees, and the "Kobra" where you spin backwards and forwards through the air. "Tiger Rock" is a log flume which finishes with a ride through a tiger's head.
Smaller children will also no doubt love the Gruffalo boat journey and the "Room on the Broom" story room.
This is another place to set aside a full day so that you can experience as much as possible.
Visiting Chessington World of Adventures
Day tickets can be booked here.
Chessington is open from 10am until 5pm during the week and until 7pm at weekends. You can book day passes here, as well as overnight stays if you really want to maximise your time (this gives early ride access).
If you choose to stay, there are several options that include glamping and a safari themed hotel.
You can get to Chessington by train from central London to Chessington South station which is a 10 minute walk away. The 465 bus also runs from Kingston upon Thames and the 467 bus from Epsom.
Experience the wonderful gothic architecture at Strawberry Hill House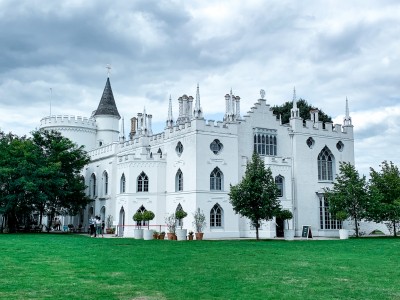 Less than a 40-minute train ride from central London, you'll find the wonderful gothic mansion that is Strawberry Hill House.
It originally belonged to Horace Walpole, the son of Sir Robert Walpole, Great Britain's first Prime Minister.
Compared to Hampton Court Palace, Strawberry Hill House is relatively small. But it's still worth some of your time. It's a really unique place – and its location, a few minutes' walk from the River Thames and not far from Richmond upon Thames – makes it a perfect day out.
When you visit, you'll learn more about the history of the house. Walpole bought it in the mid 18th century, setting out to create a "little gothic castle".
After his death, the house passed down to various family members who made further changes. It was then extensively restored and reopened to the public in 2010, having suffered extensive damage during World War II.
The restoration brought the house back to as close as possible to Walpole's original gothic design. You'll see all of this as you make your way through the building.
During your visit, you'll wander through a maze of different rooms, each bathed in a different colour and each unique.
Some have beautiful stained-glass windows, while others have ornate gothic fireplaces and carvings around doorframes. There are intricate, colourful, geometric ceilings throughout.
One of my favourites was The Gallery, a stunning and opulent room. It's long and narrow and was used for entertaining.
It has a red and gold colour scheme and ornate recesses and fireplaces with small mirror panes that reflect the light. The fan vaulted ceiling is made from papier mache and inspired by one in London's Westminster Abbey.
Aside from the actual house, you can also wander around the garden. There's also a small café with a few tables outside.
If you fancy something more substantial to eat, then I'd recommend the Alexander Pope pub, just a few minutes' walk away.
This is a really nice pub with outdoor seating, which serves hearty meals. Cross the road and you can walk through a small park and along a section of the River Thames.
Visiting Strawberry Hill House
The house and garden are open every day except for Monday from 11am to 4pm.
Adult tickets are £12.50. Students can visit for £6.25 and under 16s can enter for free. There are also a number of concessions for different groups: see the website for more information.
The nearest train station is Strawberry Hill, which is 35-40 minutes from London Waterloo.
Walk the Thames Path
The Thames Path stretches over 180 miles from Kemble in Gloucestershire to the Thames Barrier in London. Part of it flows through south west London with a number of different sections to walk along.
The National Trail website identifies the highlights and the best routes.
This includes a stretch between Teddington and Putney. Heading along Surrey side of the river it is just over 11.5 miles in length and just over 14 miles on the Middlesex side.
The route along the Surrey side takes you past many attractions highlighted in this post: Richmond Park, the Royal Botanic Gardens in Kew, Ham House and Barnes and the London Wetlands Centre. The Middlesex side includes Syon Park and Marble Hill Park.
Other sections of the Thames path stretch through south west London: for example, there is an 11 mile walk between Shepperton and Teddington which takes you past Hampton Court Palace and up to Kingston upon Thames.
There's also a route from Putney to Tower Bridge in central London.
The website says that the trails are suitable for everyone, regardless of age and walking ability. It recommends visiting between spring and late autumn.
'Go Ape' in Battersea Park
This is one for the kids and for those of you looking for something a bit more adventurous. The website warns however that "a head for heights is a must" – apparently the treetop activities here are twice the height of those in most other 'Go Ape' sites.
You can choose between different activities here depending on your appetite for adventure and the time you have available.
The 'Treetop Adventure' is a one-hour activity during which you can test your skills stepping across high wooden platforms as well zoom down zip wires. This is pitched as the easiest of the courses, and the most suitable for young children. It costs £22.
The 'Treetop Adventure Plus' is advertised as an easy/moderate course, which again lasts for an hour. This is designed for older children (over six years of age) as it is more challenging, higher up and has a longer zip wire. Tickets for this circuit cost £26.
The 'Treetop Challenge' is a longer, more challenging course which is estimated to take two to three hours to complete. You need to be "ready to tackle high rope perils such as the Zigzag Bridge, Stepping Stones and Tibetan Bridge before enjoying a thrilling zip wire flight down to another platform".
This longer route costs £36 (however, if you fancy this but have less time or money, then you could opt for the 'Treetop Challenge Xpress' which takes 90 minutes and is £29).
Visiting 'Go Ape' in Battersea Park
The nearest train station is Battersea Park Station. You can catch trains from London Victoria station and then it's a short walk into the park. You can also catch a train to Queenstown Road.
Or alternatively, you could catch a bus (the number 44) from London Victoria station.
If you're planning to arrive via the tube, then get off at Sloane Square station on the District line. It's then a bus ride (the number 137 or 452) to the park or a 1 kilometre walk.
For further information on reaching 'Go Ape', click here.
Learn about England's famous tennis at the Wimbledon Lawn Tennis Museum
For fans of tennis, a visit to the All England Lawn Tennis and Croquet Club in Wimbledon is a must. However, you may not be in London around the time of the Championships in June and July and even if you are, you may not be fortunate enough to secure a ticket to the event.
If this is the case, then you can still get your "tennis fix" with a trip to the museum and a tour around the Centre Court. Both of these get top reviews on Tripadvisor.
A visit to the museum will allow you to see some of the 20,000 objects that depict the history of the tournament over the years.
This includes the trophies and medals that have been awarded to winners and runners up, various pieces of tennis equipment, and displays that showcase the changes in tennis fashion over the years. There are also some interactive parts of the museum.
As part of your visit, you also take a quick (15 minute) tour around the famous Centre Court and main press interview room.
After your visit, and if if you have time, then a wander around Wimbledon Village is worth it. This has a number of cafes and restaurants where you can stop for lunch and some small boutique shops to wander around.
It is also on the edge of Wimbledon Common if you fancy a longer walk and some fresh air. There is a windmill in part of the Common and some charming pubs.
Visiting the Wimbledon Lawn Tennis Museum
Entrance to the museum is £13 for adults, £11 for senior citizens and £8 for children. If you also want to take the tour as part of your visit, then the prices are £25 for adults, £21 for senior citizens and £15 for children.
The nearest tube station is Southfields station which is on the District Line. After this, you'll need to walk for around 15 minutes to reach the club. You could also travel to Wimbledon mainline station and catch a taxi for the short remaining distance.
There is also a bus that goes directly to club. Click here for further details.
Visit Ham House to see one the "grandest Stuart Houses in England"
Ham House is a 17th century National Trust house located near Richmond and on the fringes of the River Thames.
Although it was originally built for Sir Thomas Vavasour, it was subsequently renovated by later owners. This culminated in what the website describes as one of "the grandest Stuart houses in England".
A visit to Ham House gives you the opportunity to see the interior with its wonderful furnishings and features which apparently include baroque murals, "rare 'paned' damask hangings", and a collection of artworks. There is a beautiful staircase, a 17th century library and several halls, galleries and parlours.
The house sits in 18 acres of garden, making for an ideal afternoon out on a fine day. Within the garden, there are large numbers of fruit trees and flowers that burst into bloom in spring.
There are different sections, including a wilderness garden (where you will find "quiet spaces, shelter and hear birdsong"), and a kitchen garden (growing flowers, as well as asparagus and rhubarb).
Visiting Ham House
Ham House is a 15 minute walk from both Richmond mainline station and Richmond underground station (which is on the District line). You can also hop on the 371 bus which stops nearby. If you plan to drive, there is free parking nearby.
Entrance is £5.00 for adults and £2.50 for children.
Swim in an outdoor lido
If you fancy some exercise or just a splash about in an open-air swimming pool, then you can find one of these in Hampton, not far from Kingston upon Thames and Richmond upon Thames.
The water is heated all year round to 28 degrees centigrade, so you don't need to worry about the great British weather: you can visit even when it's raining!
The pool is 36m long. There are designated swimming lanes as well as open sections. There is also a small learner pool and sessions for family swims.
Visiting Hampton Pool
Hampton Pool is open every day of the year and sessions start in the early morning (on some days at 5.45am) and run until 10.15pm at night. A swim is £6.90 (£7.90 for a swim in the family session slots).
It is located near Bushy Park so could easily be combined with a trip to Hampton Court Palace, Richmond Park or Kew Gardens.
It is a 15 minute walk from Hampton train station, which can be reached via South Western Railways from London Waterloo or Clapham Junction.
Sightsee on a river cruise
Another way to explore parts of south west London is by taking a river cruise on the River Thames. This is a relaxing way to travel and enables you to tick off some of the must-see sights.
In south west London, you can take Turks River Cruises between Kingston upon Thames, Richmond upon Thames and Hampton Court.
This allows you to travel on an old Mississippi style cruiser for something a bit special. The length of the trip varies depending on where you embark, as does the ticket price.
Thames River Boats also offer 45 minute round trips from Richmond upon Thames, as well as trips up to Kew and Hampton Court.
For other Thames river boat cruises, click here.
Sip some cocktails along the river
Sipping cocktails tops any list of activities in my book. But sipping cocktails on a river is a great way to relax.
There are parts of the River Thames that are quite industrial or that are built up with flats and office blocks.
However, in south west London large stretches are leafy, with beautifully designed bridges spanning the river and rowing boats bobbing on the water. These are the parts to head for.
There are lots of spots along the river to choose from and it will depend on which part of south west London you're visiting on a particular day, or where you are staying.
However, if this is one of your things to do in south west London, I have picked out some venues below that you might be interested in.
Other options include the Bishop in Kingston upon Thames, Rick Stein in Barnes, and the Waterfront London in Wandsworth.
Sup some beer on a brewery tour in Chiswick
If you fancy learning about the process of making beer and trying some at the same time, the Griffin Brewery in Chiswick offers tours. The Brewery makes Fuller's ales, so at the end of the tour it's these beers that you'll be tasting.
The tour takes in the entire brewing process. There is also a brewery shop and bar where you can try some more beers or buy beer to take home.
The Mawson Arms pub is next door if you fancy some lunch before or afterwards.
On TripAdvisor these tours consistently get five-star ratings. Comments include "the best brewery tour in London", "fantastic visit", "educational and fun", and "best brewery tour ever".
If you like your beer, this is definitely among the things to do in south west London.
Visiting the Griffin Brewery
Tours last for around two hours and run several times a day. They cost £20, including the booking fee.
If you're travelling by tube to the brewery, get off at Turnham Green station on the District line. You'll then to need to walk to the site (this will take 15-20 minutes).
Where to stay in south west London
As London is so big there's no shortage of accommodation to choose from and you are spoilt for choice in south west London.
However, there are some nice areas to focus on and I have picked out a few hotels below that are worth looking into.
To explore more options, click here.
Other ideas for UK staycations and short breaks
As my post reveals, there are many things to do in south west London.
However, if you're looking for a UK staycation beyond London, or even a short trip to Europe, then some of my other posts may interest you.
Main image and featured image (c) Mkos83/ Dreamstime.com
---