West Bay, Dorset: top things to do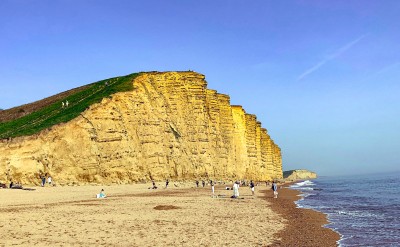 By Emma Marshall
This post contains affiliate links
It might have first drawn national attention in 2013 with ITV's "Broadchurch" and David Tennant, but for me, it's always been there.
Growing up nearby in south Somerset, Sunday afternoons often involved a drive down to West Bay on the Dorset coast. As a small child, my focus was the flashing lights of the amusement arcade and bouncing up and down on the trampolines that were parked permanently on the green as you entered the town.
Of less interest were the long blustery walks down the promenade (a winter's day wasn't going to deter my parents from this family outing) and the obligatory purchase of a cup of vinegary cockles in a non-descript polystyrene cup. If I said that I never really relished yet another trip here, that would be a bit of an understatement.
However, a return trip as an adult has made me appreciate it in a new way. And appreciate all the things locally that makes it's a perfect short trip away or family holiday.
Read on for top things to do on a visit to West Bay, Dorset.
West Bay Dorset: top things to do
Go on a cliff walk
West Bay sits on the stunning Jurassic Coast, a UNESCO World Heritage site that runs through Devon and Dorset and covers 95 miles. It's a perfect place for a healthy hiking weekend away with the opportunity to experience spectacular views out to sea.
There are a variety of walks you can do along the coastal path. Your choice will very much depend on the time you have available, your fitness levels and what else you want to do on your visit to West Bay.
If you fancy doing one of these hikes, you can get more information from the Jurassic Coast Trust's website. This has downloadable maps for use.
You might, however, just want a short walk and a chance to view the stunning coastal scenery from West Bay itself. If so, you can also climb to the top of the cliffs here.
The main one from the East Beach is a steep, but short climb. But it's definitely worth it for the incredible views you get out to sea and back over the town.
Alternatively, you can take the slightly gentler path up the cliffs by the West Beach. There are benches here at regular intervals where you can stop and look out at the sea, back over the town and to the cliffs both right and left.
Close your eyes and listen to the waves lapping below – it's wonderfully relaxing.
Spend time on the beach
If a coastal hike sounds far too challenging or you don't have time to walk the path, you can still experience the wonderful sights in West Bay.
Step out onto the stony East beach for a closer look at the undeniably amazing steep craggy cliff. Anyone who did watch Broadchurch can't fail to recognise it.
Formed of Bridport Sands rock, the cliffs rise almost vertically up, with great patterns formed by the striations on the rock.
Over the years, the cliffs have weathered such that there are fossils galore to be found on the beaches if you wish to search for them. It's a geologist's dream. You'll often see people rummaging around on the beach hoping for a lucky find.
In the summer, this is a lovely place to head for a picnic.
Explore West Bay town
West Bay isn't the biggest of places to explore, the coast here being the main draw. However, there are a few things that will keep you occupied.
There is a long promenade that takes you along the seafront. Here you'll find seats where you can look out into the glittering sea (as it was the day we went).
There is a small pier and compact harbour, with huts where you can buy ice cream, seafood, fish and chips and doughnuts. You can take boat trips or fishing trips from here.
The amusement arcade of my youth is still in the same place – a fun, albeit noisy! – place to take the kids on a wet day.
Or for anyone who enjoys exploring flea markets or bagging a bargain in an antiques shop, there's The Customs House emporium. Here you can browse the wares of over 100 merchants.
Day trip to other nearby towns
West Bay is ideally located for short hops to other places on the coast. For me, Lyme Regis is a must with its 14th century Cobb wall snaking out into the sea.
It also has a Victorian promenade overlooking the small sandy beach (great for children and their buckets and spades).
There are some interesting shops on its steep main street selling a range of local wares, including pictures painted by local artists and fossils collected from the local beaches.
And if fossils are your thing, you can learn more about the famous Mary Anning in the small museum here.
I would also recommend stopping off at one of the tea shops for the traditional Dorset cream tea and scones.
Burton Bradstock is also worth a visit, again to look at the wonderful cliffs, sit on the sand and possibly also visit the beachside Hive restaurant.
Other places on the coast to consider are Charmouth, Eype, and Seatown, all of which are small but attractive spots to unwind.
For kids and adults like, you could also consider visiting nearby Seaton. Here you can catch an old-fashioned tourist tram to Colyton. This is a short, but fun 25-30 minute journey and another childhood memory for me.
Chesil Beach is also about a half an hour drive away.
Try out some delicious Dorset food
There's no shortage of great places to eat in the area, especially if you like seafood.
We loved the Hive restaurant, right on the beach in Burton Bradstock. As you'd expect, there's lots of fresh fish and seafood here. I had this wonderful lunch of fresh local crab.
Note however, that this is a very popular spot, and you can't book in advance. So arriving early is recommended.
West Bay itself has several pubs serving a range of food. The Bridport Arms and the West Bay Hotel are both near to the beach. The George is nearer to the river.
If you fancy something other than a pub, there is Seagulls restaurant, a lovely little bistro not far from the West Bay hotel.
There is also Rise, a modern café bar/restaurant with a varied menu and that sits on a causeway across the River Brit. It has a lovely outdoor seating area looking across the water back to the harbour.
The Station Kitchen is a quirky restaurant in a converted train carriage/waiting room on the disused train platform. It's open from Wednesday to Sunday.
For more snack type food or informal eating, there is the Watch House Cafe, an eaterie actually on the beach.
Finally, it goes without saying that you can't leave Dorset without having one of their famous cream teas (jam first for me!).
Where is West Bay, Dorset?
West Bay is a small town sitting on the Jurassic Coastline. It is 145 miles from London.
More locally, it is 17 miles from Weymouth, 46 miles from Bournemouth and 11 miles from Lyme Regis.
How to get to West Bay, Dorset
West Bay itself doesn't have a train station. It is, however, near to train stations on the South Western Railway train line and is around a three-hour drive from London. Exeter airport is 36 miles away.
If you do plan to reach West Bay via train, the easiest way is to alight at Axminster station and then catch the X53 bus to West Bay.
You could also take the train to Dorchester South station and catch the X51 bus to the neighbouring town of Bridport. This is a charming market town, itself worth a visit.
However, if you do plan to explore this coastal area more generally, I would recommend either driving down to Dorset or hiring a car once you are there.
Where to stay in West Bay, Dorset
West Bay has a number of different places you can stay in. For all, I'd recommend booking early as most places only have a few rooms.
The several aforementioned pubs in the town have a small number of rooms for rent:
There is also a large holiday park with plenty of caravans for family holidays, as well apartments for hire (for example, Westpoint Apartments).
For other apartments, click here.
In summary, a trip to West Bay, Dorset…
I wasn't sure how I'd feel about the place on a return trip so many years since my childhood. However, West Bay is now on my list of short trips to take in England.
The town might not be for everyone, but the coastline is gorgeous and there's plenty here to do for everyone. This includes coastal walks, fossil searching and sailing, as well as trips to other resorts. It would also be a perfect base for a foodie's weekend away.
Other ideas for short breaks
If you're looking for ideas for other short breaks in the UK or Europe, you might be interested in other posts I have written: