There are a plethora of places to choose from when you're considering day trips from Porto. This post gives you 12 top places to pick from.
Porto
Portugal's second largest city, Porto, is best known for being the centre of the port wine industry. Viewed from the banks of Vila Nova de Gaia, the city's skyline is visually stunning, with its iconic suspension bridge and old buildings nestled against the steep hills.
Whether you are coming here to taste different ports in the numerous wine lodges, explore the many churches and palaces, sail up the Douro river or ride on its vintage trams, Porto has a beguiling charm and is packed with things to see and do.
However, you may fancy casting your net wider and taking in some more of northern Portugal's cultural heritage and incredible scenery.
If so, then read on to discover top day trips from Porto. These are all within a few hours' travel from this fabulous city.
This post contains affiliate links
Day trips from Porto
Braga and Bom Jesus do Monte
It only takes about an hour to reach Braga from Porto's beautifully decorated São Bento train station.
Braga is a significant religious centre, and so there are lots of interesting cultural and historical sights to explore on your arrival. As an added bonus, Bom Jesus do Monte, one of northern Portugal's most resplendent sanctuaries, is a short bus trip outside the city centre.  
Braga
Two of the most important historical buildings in Braga are its 11th-century cathedral, the oldest in Portugal, and the nearby former Archbishop's Palace. The palace overlooks the beautifully designed Santa Barbara Garden.
Braga also has several art museums to check out. There is the Museum of Sacred Art in the cathedral's Treasury and the Pio XII museum with its impressive medieval tower and collection of religious art.
Another must is the ethnography and arts museum housed in the beautifully decorated 18th-century mansion, the Palacio dos Biscainhos. The interior of the palace building is absolutely incredible, not least the famous Portuguese azulejo tiles on the walls. There is also a series of beautiful gardens that you can go into.
Braga is worth visiting even if you don't have time to go into any museums. It is a joy to wander around. Highlights include the spacious Republic Square, the attractive pedestrianised Rua do Souto, and the Arco da Porta Nova.    
Bom Jesus do Monte
One of the top attractions if you are coming to Braga is the majestic 18th-century hilltop church Bom Jesus do Monte.
Descriptions don't do this culturally important landmark justice; it really has to be seen to be believed. You should definitely put this on your day trips from Porto list.
Located six kilometres east of Braga, there is a bus service that takes you to the foot of the hill where this religious sanctuary stands on the summit.
Looking up in awe, you can reach the church by climbing the beautiful granite staircase, zig-zagging your way past attractive wall fountains and statues.
Alternatively, there is funicular railway that saves you the effort. Either way, you are awarded with jaw-dropping views from the top. 
You could also book a tour that takes you to Braga, Bom Jesus do Monte and one other nearby town.
The Douro Valley
Wine tasting
The Douro Valley is known for its wineries and vineyards that are central to the production of port wine, as well as Vinho Verde (a semi-sparkling wine made from young grapes, hence the verde – green – in the name). It is another popular choice for day trips from Porto.
You can visit the Douro Valley independently, either by car or train. This would allow you to stop in various places as and when you choose.
You could visit the Museu do Douro in Peso da Regua, which has an informative exhibition that takes you through the history of wine production and how it is made. There is restaurant on site where you can grab something to eat and a wine bar.  
You can also sample port wine at some notable quintas in the Douro Valley. This is a really unique way to find out more about the history of this centuries-old tradition and the magical settings add icing on the cake.
However, if you only have a day and you also fancy relaxing and enjoying the beautiful countryside from the river, I'd recommend booking a cruise or boat trip.
You can book boat trips up the Douro river from Porto. Click here to see a selection.
The Douro Historical Train
Although the Douro Valley is most famous for its wine, there are also other attractions. One of these is the Douro Historical Train, a steam train that chugs its way along the valley's tight contours beside the river, while giving you superb views of the unfolding countryside.
The train travels between Tua and Regua and operates between June and October.
Amarante and Lamego
The Douro Valley is also home to some culturally important towns and villages worth exploring if you have time. Two to put on your list are Amarante and Lamego, although they do require some planning to get to.
The former can be found in the Minho region, which is one of the areas where Vinho Verde is made. Amarante's defining feature is its lovely arched bridge that spans the River Tamega.
Although it's not large, the town has some important historical buildings that you can explore. There's no train service here, so you'll need to catch the bus from Porto (a journey of around 35 minutes).
Lamego also has a number of noteworthy sites. These include the Nossa Senhora dos Remedios, a shrine on top of a hill that is similar to, albeit smaller than, Bom Jesus do Monte near Braga.
There is also an excellent religious art museum located in an 18th-century palace.
The bus journey here is much longer (over two hours), so it's worth setting off early to make the most of the day.
Coimbra
Coimbra is where you will discover one of Europe's oldest universities. This is arguably the main reason for visiting this culturally significant city, which was once Portugal's capital.
A UNESCO World Heritage site, the university occupies a number of buildings on a hill in the city centre that are worth seeing. This includes the Royal Palace that towers over Coimbra and some of the convents located on Rua Sofia.
There is also the ceremonial hall and the clock tower in the university complex. The tower is the highest point in the city, and you can climb it for stunning views across the area.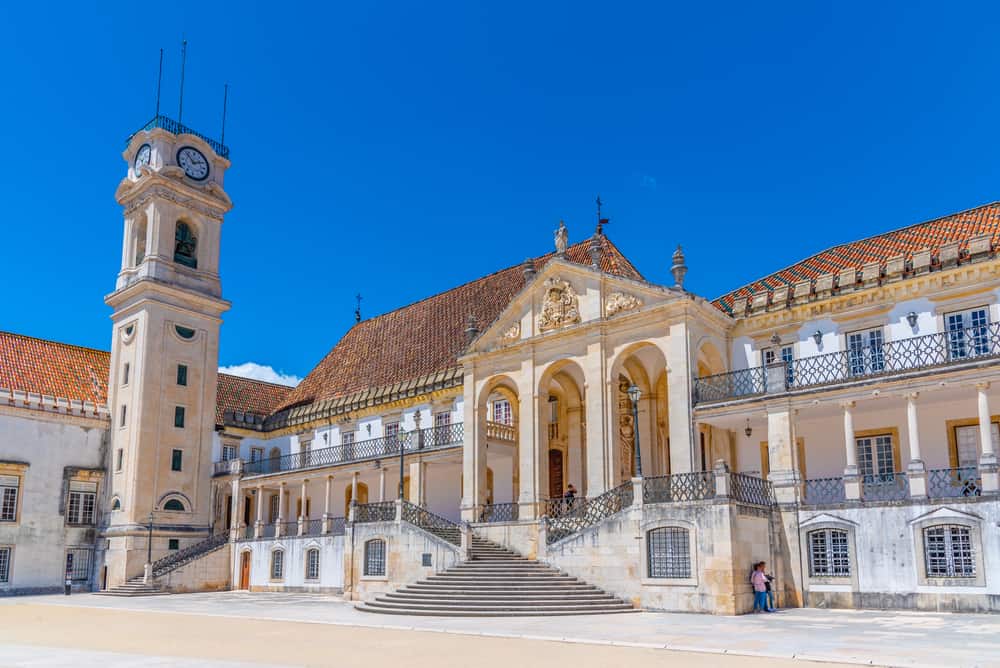 Also make sure you check out the beautifully decorated Chapel of Sao Miguel. The eye-catching azulejos tiles that cover the walls and ceiling are mesmerizing.
There's a lot to see in this part of Coimbra, so if you'd prefer to take a walking tour with a guide, this tour might interest you.
Due to its historical importance, you'll never be short of religious buildings to explore in Coimbra. These include the Romanesque Old Cathedral, the equally impressive New Cathedral, and the Monastery of Santa Cruz, to name a few.
Other highlights as you wander around Coimbra's centre are the Almedina Gate. As its name suggests, this gate led onto the medina.
You'll also find the Machado de Castro National Museum, an art museum, and the dazzling Biblioteca Joanina (King John's Library).
Others places to visit in Coimbra
If you're looking for a place to chill out, head down to the Parque Verde do Mondego, where you can sit and watch the world go by. Another popular place to relax is the landscaped botanic garden. Also part of the university, this 13-hectare garden is beautiful with plenty of shady places to escape the summer sun.
For something different, visit the 'Little Portugal' (Portugal dos Pequenitos) theme park. This family-orientated outdoor attraction showcases miniature reproductions of Portuguese landmarks and monuments. It is situated in the Santa Clara district across the river.
If you are travelling by train from Porto, the train journey to Coimbra-B station varies from just over an hour to over two hours. So if this is just a day trip amd you want to maximise your time in Coimbra, check out the trains in advance. 
You can also catch a bus to Coimbra (a journey of just under 90 minutes). Driving takes just over an hour.
Foz do Douro
Many visitors may be pleasantly surprised to discover how close the Atlantic Coast is to Porto. One of the real pleasures of visiting Porto is a trip out to Foz do Douro, where the sea laps against the shore. This is particularly welcoming on a warm, sunny day.
You can pick up the vintage number 1 tram in the Ribeira area, not far from the quayside. Sit back and enjoy the views as the tram slowly follows the Douro River as it snakes its way to the sea.
The journey is around 20 minutes, and on the way there are some interesting places that you can stop off at and explore.
Once you reach Foz do Douro, you'll be awarded with spectacular, sweeping views of the Atlantic coastline.
You can walk for miles along the esplanade and dip your toe in the sea. You can also walk down to two small fortresses – São João Baptista da Foz and São Francisco do Queijo.
Porto's Sealife Centre aquarium is next to the second of these fortresses.
If you feel peckish, there are some traditional cafés and restaurants, beach bars, and more upmarket restaurants you can stop at on your walk.
Aveiro
Marketed as Portugal's Venice thanks to its canals, complete with colourfully painted gondola-style boats, the seaside town of Aveiro is only an hour south of Porto by train.
Although relatively small, you could easily spend an afternoon wandering around this delightful town.
Arguably the most significant historical building is the Mosteiro de Jesus. This beautiful convent contains the tomb of Joanna, Princess of Portugal. You'll also find the town's museum here, which has a selection of religious art work.
The main calling card, however, is Aveiro's small network of canals that are connected to its lagoon. You can book a tour on the gondola-style boats known as moliceiros and sit back and admire the Art Nouveau architecture in the stylish Rossio area.
Aveiro's close proximity to the Atlantic accounts for its strong maritime history, and it's very easy to head out to the sandy beaches that run up and down the coastline.
Costa Nova, which sits between the lagoon and the Atlantic, is definitely worth visiting for its excellent seafood. A bit further afield is Praia da Barra where you have the choice of two beaches to sunbathe at. Portugal's tallest lighthouse is also located here.
Guimarães
Guimarães, Portugal's first capital when the nation was founded, can be easily reached by train and bus from Porto. The journey time from São Bento train station is about an hour and a quarter. Buses are slightly quicker.
The historic heart is a UNESCO World Heritage site, and much of the action takes place around the main squares of Toural, Oliveira, and Santiago. These squares are full of character and great places to sit and watch people go about their business as well as admire the city's impressive architecture.  
You can also pop into the Church of Nossa Senhora da Oliveira when in Oliveira Square.
Guimarães' main draw however, is its 10th-century castle built on a strategically positioned hill overlooking the town. The views from its seven towers are excellent, and it's definitely worth exploring inside.
Take a look at the small chapel at the entrance where Portugal's first king Afonso Henriques was said to have been baptised.
Other landmarks to include on your visit to Guimarães are the Palace of the Dukes of Braganza, which houses a small, albeit excellent contemporary art museum, and the Santo Antonio dos Capuchos Monastery. The Museu de Alberto Sampaio showcases religious art and artefacts.
If you have a good head for heights, you can also take a ride in the Penha Cable Car. This ascends the Penha hilltop for fabulous views over Guimarães and the opportunity to explore the Sanctuary of Penha.
You can book tours to Guimarães, which also includes time in Braga here.
Peneda-Gerês National Park
Arguably you would want to spend more than a day in the Peneda-Gerês National Park, the only such park of its kind in Portugal. But it's still possible to put this on your list for day trips from Porto.
Covering an area just shy of 700 square kilometres, the national park is as you would expect: an area of outstanding beauty home to a variety of flora and wild animals such as boars, deer, and wolves.
Most visitors arrive by car; the journey time is about an hour and a quarter. However, you can get a bus from Porto to Braga and then on to the park.
You can also book day tours here.
This tour includes a hike through some of the park, a visit to some Roman ruins, and (depending on the weather on the day), either a swim in a mountain waterfall or a dip in thermal hot springs. Lunch is also provided.
Other tours give you the chance to go kayaking.
The park contains many old villages with granite houses that haven't changed in centuries. Ones to consider visiting include: Castro Laboreiro (and the nearby castle ruins and Roman bridge), Soajo, Lindoso (another place with a castle), and Termas do Gerês, with its thermal park.
However, if it is nature that you are after, you'll find dramatic landscapes with wild, open spaces and forested areas, waterfalls, and mountain peaks.
Areas you should consider visiting for stunning scenery are Peneda, including the attractive sanctuary, the Vale da Peneda viewpoint, and Portela do Homem waterfall. Nearby the waterfall, you'll also find Mata da Albergaria forest and a Roman Road.
Viana do Castelo
There are many reasons to visit this scenically impressive town known for its ship-building and fishing. Arguably, top of the list is the majestic Sanctuary of Santa Luzia that towers over Viana do Castelo on the nearby hilltop.
The Sanctuary of Santa Luzia
The most scenic way to ascend to the sanctuary is by taking the Funicular de Santa Luzia (elevador), located near Viana do Castelo train station. The journey time to the summit of Santa Luzia hill is around seven minutes.
The views from the top are absolutely stunning. If you're feeling energetic, you could also walk the two kilometres to the top.
While here, make sure you pop into the modern basilica, built in a neo-Byzantine style. There is a small museum inside, and you can ascend to the dome via stone steps, for panoramic views.
Viana do Castelo
The town of Viana do Castelo is also packed full of historical delights and centres on Republic Square in the old town. The square features some of Viana do Castelo's main attractions, such as the 16th-century fountain, the Old Town Hall, and Misericórdia building.  
There is a number of interesting museums to see that come recommended. These include the Costume Museum, housed in an old bank, and the Municipal Museum, a ceramics museum. Chocoholics will also love the Fabrica do Chocolate, dedicated to all things chocolate and cocoa.
Make sure, however, that you definitely check out 'Gil Eannes', a museum on a ship that once served as a naval hospital supporting cod fishing crews working the coast from New England up to Greenland.
Finally, if you are looking for a bit of sun and sea, Praia do Cabedelo is a stunning ribbon of gold, sandy beach that you reach quickly from the town. Other seaside spots you may want to consider are the beaches at Arda and Amorosa.
Viana do Castelo is very easy to reach from Porto by train. There are regular departures each day, and the journey time varies from just over an hour to around two hours. Buses take about an hour and a half, but you can drive there in around 45 minutes.
Ponte de lima
Located north of Braga and nestled on the south bank of the Lima River, the ancient town of Ponte de Lima has many attractive features. Most significant is the Roman stone bridge from which the town takes its name, and the Torre da Cadeia Velha, the old jail tower, and the Torre de Sao Paulo.
Although the town centre is small, it has plenty of character, with attractive old houses and religious buildings, lovely squares and flower gardens. In fact, if you are coming during the summer, the town holds a gardening competition where you can view specially designed gardens down by the river.
If you are a fan of the Vinho Verde wine (which I definitely am!), the ancient town is apparently the hub of production for this refreshing 'green' wine. You can find out more about how it is made and its history in the town's Interpretation and Promotion Centre.
It isn't possible to get to the Ponte de Lima from Porto by train, so you would need to hire a car or take a bus. Buses leave Porto five times a day, and the journey time is around 1 hour and 30 minutes. The drive is under an hour.
Other ideas for day trips and short breaks in Europe
I hope this post has given you a good flavour of the type of day trips from Porto you can take.
My website also has a range of posts on other places to give you more ideas for day trips and short breaks in Europe.  
You may be interested in the following: