11 days out in Hampshire, UK
The southern county of Hampshire in the UK is a place of contrasts and has a rich and varied history.
The county town, Winchester, is one of the oldest cities in England dating back to pre-Roman times. It's also home to the New Forest, a large area of countryside crossed by beautiful trails for walkers and cyclists, and has a historic train line that you can ride.
Fans of Downton Abbey will also love a trip to Highclere Castle!
Furthermore, there are many coastal places of interest such as Portsmouth, which has a historic dockyard, and Southampton, which houses the SeaCity Museum chronicling the city's maritime history and the Titanic tragedy. It's also easy to hop across to the Isle of Wight.
The diversity found in the county – covering as it does, historical cities, areas of natural beauty, and a coastline – means there is plenty to do on a day out.
And its proximity to London and other places in the south of England (it's bordered by the counties of Dorset, Wiltshire, Berkshire, Surrey and West Sussex) means that you're spoilt for choice when it comes to days out in Hampshire.
Read on for suggestions for some top days out in Hampshire.
This post contains affiliate links
Days out in Hampshire
1. Winchester
Hampshire's county town, Winchester, is a wonderfully historic city. It has a rich history with buildings dating back to medieval or Tudor times and is a popular day trip for tourists.
Top of the list for your day out in Winchester is a visit to its magnificent gothic cathedral. The cathedral is beautiful and has been modified throughout history with different architectural styles added to its exterior design.
The cathedral is significant as it houses King Arthur's Round Table where legend says he called his knights together before they set off on another quest.
Winchester is also home to the famous Winchester College. Founded in 1382, it is said to be England's oldest surviving public school that still teaches students.
The city has plenty of museums, including The Gallery, an art gallery located in the Winchester Discovery Centre.
Other attractions include the ruins of Wolvesey Palace (or Old Bishop's Palace), where the Bishops of Winchester lived in the Middle Ages.
It's also a great place to stroll around, and there are paths that run alongside the River Itchen.
2. Portsmouth
Portsmouth is a fascinating day trip. If you're sightseeing, make sure you head to Portsmouth Harbour train station as it's in this area of the city where many of the sights are located.
One of the top places to visit is the Portsmouth Harbour Dockyard. It contains a wealth of attractions showcasing the city's role in maritime history, both past and present.
This includes HMS Victory, the flagship of Lord Nelson, as well as the Mary Rose Museum which houses the remains of Henry VIII's ship. It sank in 1545, but was raised from the seabed in 1982.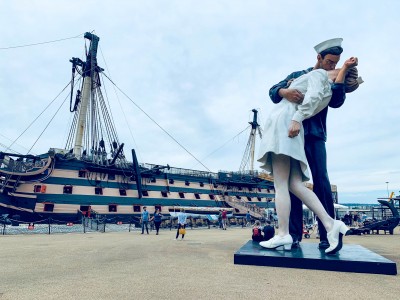 You can also visit the Royal Navy Submarine Museum and the Explosion Museum of Naval Firepower as part of your ticket and take a boat trip around the harbour.
For more history, head to the D-Day Story museum situated towards the city's Southsea Beach.
This is definitely worth visiting to learn more about the Normandy landings during the Second World War.
I spent a fascinating couple of hours here. It also houses the Landing Craft Tank (LCT) 7074 a few metres outside of the main museum building. This is the only surviving LCT from the time and you can step on board and explore.
The museum's location means you could also visit Southsea Castle (built by King Henry VIII in 1544) and the South Parade Pier with its small amusement park and eateries. There is a small botanical garden nearby.
For views over the city, book a ticket up the Spinnaker Tower. This is based in Gunwharf Quays, an ideal spot for some shopping or for food and drinks after a day of sightseeing. Or head to the beach for some sea and sand!
3. Southampton
Southampton is a historic port city in Hampshire. It has many tourist attractions, making it one of the top days out in Hampshire.
The SeaCity Museum is a major draw. It chronicles the city's maritime history and the impact that the Titanic tragedy had on the local area (the ship set sail from Southampton in 1912 and consequently, there were many local residents on board who had secured jobs as part of the crew).
The museum is interactive and uses audio and visual displays to bring to life its stories.
There is also the Solent Sky Museum, one for aviation lovers. "The home of the Spitfire and the largest flying boat operation in the world", there are 20 aircraft here to see.
For a blast of a different type of history, visit the medieval Tudor House and Gardens in the Old Town and the Medieval Merchant House a short walk away.
The Bargate is also worth seeing: a historic building in the city that was once the main entrance to the medieval town.
For art lovers, there is the Southampton Art Gallery and Museum.
4. Highclere Castle
Highclere Castle is a stately home in Hampshire.
It was built in the 17th century, lived in by a future attorney general and then inherited by the first Earl of Carnarvon in the late 18th century. Changes were made during the tenure of the third Earl of Carnarvon in the mid 19th century who commissioned the house to be redesigned in a Jacobean style.
The building is striking and is perhaps most famous for being the filming location for the British drama series Downton Abbey. So if you loved the TV show, you'll love it here!
On a visit to Highclere Castle, you can explore the house and its grand rooms, as well as the rooms which comprised the staff quarters. There is also an Egyptian Exhibition that provides information on the 5th Earl's role in discovering the tomb of Tutankhamun in Egypt in 1922.
The extensive land around the castle – which covers 1,000 acres – can also be explored. Capability Brown designed the parkland in the 18th century and there are some great walks here (the castle's website lists some recommendations) and some beautiful views to experience.
At certain times of the year, you can book special tours and experiences (e.g. a Springtime guided tour or the 'Magic of the Movies' day which you can attend dressed as a Downton character).
You can book tours to Highclere Castle here.
5. The New Forest
The New Forest is an expanse of unspoiled heathland and forest in Hampshire. Many people visit this area on day trips to enjoy some of its attractions.
The main towns to head for in the New Forest are Brockenhurst and Lyndhurst, but it's worth looking around the small villages too.
A popular place for visitors is the New Forest Heritage Centre, which is located in Lyndhurst. The centre has activities, exhibitions, as well as a shop and cafe.
You can explore the New Forest on foot, bicycle or horseback.
It is also a place to see some beautiful ponies. They are free to roam around the forest and are a sight that many people come to see. The ponies are usually quite friendly and so have been known to come up to visitors.
Some visitors also like to go bird watching here.
6. The Isle of Wight
The Isle of Wight is a beautiful island located just off the south coast of Hampshire. It's a short ferry ride from Portsmouth, Southampton, and Lymington. Although it's a great place to go for a short break or a longer holiday, it's also popular for a day trip, and there are plenty of things to do on the island.
One of the most popular attractions is Osborne House.
This was once the holiday home of Queen Victoria and Prince Albert, and is now a museum open to the public. You can explore the house and its grounds, including their beach, where the Queen and her children swam.
Another popular spot is Carisbrooke Castle which is now open to visitors. You can explore the castle and learn about its history as a fortress, prison (Charles I was held here after the English Civil War) and royal residence in the summer.
After a stroll up to the castle mound and around the defences you will be able to look out on some stunning views.
There are also donkeys here! You can watch them at work, drawing up water from a well.
The Isle of Wight also has some beautiful beaches and coastal areas, such as the Needles rocks at Alum Bay and Sandown Beach.
For children there is Dinosaur Isle, Monkey Haven and the clifftop adventure playground Blackgang Chine.
The Isle of Wight also has its own steam railway so train buffs will no doubt want to head here!
7. The Watercress Train line
The Watercress train line opened in Hampshire in the second half of the 19th century. Since the 1970s, it has been a heritage line on which you can ride some of the old steam trains.
So if you don't get the chance to experience the Isle of Wight's steam railway, this is another option.
The line takes its name from the fact that it once transported watercress, although it was officially the Alton, Alresford and Winchester Railway when it first opened. It was used for military purposes during the first and second world wars.
A trip on the Watercress is great fun and will appeal to train enthusiasts. You can experience a ride on a steam train that travels 10 miles, and look out across the Hampshire countryside.
On selected days there are also special trips. For example, there are rides that include a Sunday lunch onboard. Alresford station also has a museum and gift shop to browse in.
There are four stations along the line – Alresford, Ropley, Medstead and Four Marks, and Alton – although the website suggests hopping on at one of the two end stations.
You can drive to the stations, but if you prefer to join the train via public transport, a mainline station at Alton links directly with London Waterloo.
And if you choose to get off at some of the stations, you can also explore the local area.
8. Beaulieu Motor Museum
The National Motor Museum in Beaulieu is a great day out in Hampshire. The collection includes over 280 vehicles that date back to 1875.
More recent specimens include Formula 1 cars, cars from the TV series Top Gear, and a new exhibition of vehicles used in the Bond film 'Bond in Motion – No Time to Die'.
There are also sections covering motorcycles, the design and changing construction of cars over the years (for example, you can learn more about Beaulieu's crash test dummy), and Britain's attempt to secure the land speed record.
The museum is set in gorgeous grounds so a trip here also gives you the chance to wander around the gardens and get some fresh air.
You can also see the ruins of the 13th century Beaulieu Abbey before popping into Palace House, the original gatehouse of the Abbey.
For children, there is 'Little Beaulieu', an adventure playground, complete with climbing wall and boardwalk. And if you want to see Beaulieu from above, ride the monorail: this runs for a mile and is the oldest monorail in England.
If you love cars and history, then a trip to Beaulieu is for you. However, even if you're not a fan, a visit here is still worth it as there's so much more to see and so.
For more information on what to see in Beaulieu, check out the website.
9. Marwell Zoo
If you're looking for family days out in Hampshire, then a visit to Marwell Zoo is a must.
Located just outside of Winchester, the zoo covers 140 acres and is home to a wide variety of animals and different species, from lions and leopards to penguins and sloths. There are also birds and reptiles (the website lists the full range of animals you can see here).
There's plenty to do here that makes it a full day out.
One of the best things about visiting is that it allows you to see some of these animals from a different perspective from the traditional zoo experience.
For example, the 'Wild Explorers' section recreates animals living in the wilds of African. You get to walk along a boardwalk and observe the animals from this vantage point.
There is also a tropical house with birds, and a walk-through aviary.
Younger visitors will love exploring the zoo's 5 playgrounds and rides, while parents can relax in the zoo's many cafes and restaurants. There are also several different gardens to wander around.
10. Jane Austen's House
The Jane Austen House Museum in the village of Chawton is another popular museum in Hampshire. The museum is in the house where she wrote her six main books and lived for the last years of her life.
On a visit, you get to see the rooms in which Jane worked, ate and slept.
The rooms have been restored and designed to reflect the early 19th century period when she lived here, together with a display that shows off a collection of her possessions. This includes her writing table, the first edition of Pride and Prejudice, and a music book.
The cottage sits in a pretty garden that has neat lawns and benches. The website says that visitors are welcome to bring a picnic to eat in the grounds. This sounds perfect on a warm summer day!
The museum also has a gift shop where Jane Austen fans can buy some precious souvenirs of their time here.
If you are a fan, you may also want to consider checking out Bath, another place she lived in, where there is another museum dedicated to her life.
11. Bombay Sapphire Museum
The Bombay Sapphire Museum, near to Winchester, is a place where you can learn about the history of gin, sample tasters, and experience making your own cocktails. You also get to tour the distillery and experience a 'Botanical Dry Room': "a sensory experience to uncover your flavour preferences".
You can also book gin cocktail masterclasses. These are 2.5 hours long and include a tour of the distillery, an interactive "mixology session", and a lesson in making two cocktails with the company's experts.
You can also visit without booking an experience and try out their drinks and cocktails in their on-site bar.
If you do want to book a tour, this day trip from London combines this with a trip to nearby Winchester.
I hope this has given you a flavour of some of the days out in Hampshire you can experience. It's an area full of places to explore, for adults and children alike, so enjoy your time here!
Other ideas for day trips
There are plenty of other places to consider in the UK for a day trip or short break. My website has ideas you might want to consider, including: