Day trips from London by train: 17 top places
by Emma Marshall
If you're looking to escape London, for a change of scene and a breath of fresh air, then there are endless options. And the fact that London has pretty good rail connections to the rest of the country means that you don't need to have a car to get away.
There are a number of day trips from London by train that you can choose from.
I've selected some of my top choices here – places that are relatively easy to get to and won't disappoint when you arrive. It covers a bit of everything – some quintessential English places, some destinations with stunning scenery and some interesting historical sites and attractions.
Read on for more information on day trips from London by train.
This post contains affiliate links
1. Bath
Bath, a UNESCO World Heritage site in the south west of England, is a fabulous place to day trip to from London. There are plenty of sights to see, and the fact that the centre is relatively small and walkable, means it's easy to pack a lot in within a few hours.
One of the leading attractions is the Roman Baths Museum, which is housed on site of the old Roman baths. This gives you the chance to see the old majestic baths and learn more about the city's history.
Then if you fancy a dip in a thermal bath yourself, wander up to the Thermae Bath Spa. There's a thermal rooftop pool here that looks back across to the Bath Abbey (it's particularly special if you visit during the dark winter nights when the city is lit up).
The city also boasts a number of excellent museums. These include the Jane Austen Centre, which showcases memorabilia of the author's life, the nearby Museum of Bath Architecture, the Victoria Art Gallery and the Fashion Museum Bath.
The city is also a beautiful place to wander around: walk up to the stunning Royal Crescent, a sweeping Georgian arc overlooking the Royal Victoria Park.
There's also the peaceful Parade Gardens which lie alongside the River Avon. You can pick up boats trips on the river which take you under the attractive 18th century Pulteney Bridge.
Read more about the things to see and do in my separate post on Bath.
How to get to Bath by train
Trains run from Paddington station in London and take around 1 hour and 20 minutes. The station is just a short walk from the city centre.
2. Brighton
Brighton is a very popular destination and perfect if you want to see the sea. And there are plenty of attractions to visit so this is definitely a trip worth considering.
One of the main attractions in the city, especially if you're visiting with children, is to visit the Brighton Palace Pier, one of England's oldest seaside piers. It features a range of fairground and amusement park rides to suit all ages.
The Brighton Royal Pavilion was built for George IV as a pleasure palace for when he visited the city. The pavilion is a striking building from the outside, with magnificent domes and minarets.
It's worth taking a look at, even if you don't have the time to go inside. But if you do go in, you'll get a unique insight into this stunning place, with the chance to look around some grand rooms and beautiful galleries.
You can also see the city from above from the viewing platform of the British Airways i360 observation tower. At 450 feet high, you are afforded some truly amazing views from the top.
The vibrant Lanes area of the city is a great place to grab a drink or bite to eat after browsing in some of the small quirky shops here. And the beachfront area is definitely worth exploring – there are lots of restaurants, souvenir shops and amusement arcades along its length.
But on a sunny day you might just want to pack a picnic and chill out on the beach!
How to get to Brighton by train
Brighton is easy to get to: the train journey only takes about an hour. You can catch direct trains from both London Victoria and London Bridge stations.
3. Broadstairs
Broadstairs is a town on the Isle of Thanet in Kent. It is known for its Victorian seafront, which has been attracting holiday makers for over 150 years.
There are plenty of things to do in Broadstairs.
If you want to spend your time relaxing by the sea, this is the place to be. Viking Bay is a small bay on the south side of the town that has a beautiful stretch of sand. It's the perfect spot to spend a sunny day and there are opportunities for paddling in the water.
Nearby Botany Bay is another picturesque spot. The geological structures around here make it an ideal place for fossil hunting.
Overlooking Viking Bay on the clifftops are Victoria Gardens. These pretty gardens offer panoramic views out to sea.
Also overlooking the bay is Bleak House, the early 19th-century house where Charles Dickens is said to have written some of his works. You can learn more about his life in Broadstairs in the Dickens House Museum.
The small town is also worth exploring and has a good selection of shops, cafes and restaurants. Some of these specialise in seafood and there are plenty of places to indulge in the traditional British fish and chips.
Top this off with an ice cream for a perfect day out at the seaside!
How to get to Broadstairs by train
Trains to Broadstairs run from London St Pancras International and London Victoria. The St Pancras trains are slightly quicker and take between 1 hour and 20 minutes and 1 hour and 40 minutes.
4. Cambridge
A day trip to Cambridge has a great deal to offer.
One of Cambridge's main draws is its colleges and university. You can take a walking tour, learn about student life and visit some of the most popular colleges that make up what is the second oldest university in the English-speaking world (Oxford University is the oldest).
See the Great Gate and Clock Tower in Trinity College, or the beautiful gardens in which Pembroke College sits. Also make time to see the 'Mathematical Bridge' straddling the river in Queen's College.
There are a number of museums in the city. The Sedgwick Museum of Earth Sciences is the oldest of the university museums and contains geological exhibits.
The Fitzwilliam Museum covers art and antiquities, and then there is the Museum of Archaeology and Anthropology.
Those interested in polar expeditions will be fascinated by the Scott Polar Research Institute which is one of the world's foremost centres for the study of the earth's polar regions. The museum houses numerous artefacts and displays relating to both the Arctic and Antarctic regions.
Aside from the universities and museums, there are several things to stop off to see as you walk around Cambridge.
The Corpus Clock is a large mechanical gold plated clock in the city centre with a unique way of telling the time (make sure you look closely to see what is!).
There are also a number of parks, and a botanical garden which is home to more than 8,000 plants across 40 acres of land.
Finally, when you want to see Cambridge from a different vantage point, head to the river and go punting. The boats are flat-bottomed so that you can gently glide along the River Cam. A top way to sit back and admire the beautiful surroundings.
How to get to Cambridge by train
You can catch direct trains from London King's Cross train station, as well as London Liverpool Street and London St. Pancras International. The fastest routes are those that run from King's Cross station.
5. Canterbury
The historic city of Canterbury is another place to head to in Kent.
One place you don't want to miss is the 11th century Canterbury Cathedral. This historic building is home to the shrine of Thomas Beckett, who was murdered inside in the 12th century.
In the Canterbury Roman Museum, you can learn more about the Roman influence on England. The museum holds numerous pieces of antiques and artefacts as well as the chance to see "the UK's only remaining in situ Roman pavement mosaics".
For art lovers, there's the Beaney House of Art and Knowledge.
The city has a lovely old town area with small pretty alleyways and medieval buildings. You can pop by to see the Crooked House (now a second-hand book shop), as well as St. Martin's Church, the oldest functioning church in England.
You can also see the city by taking a boat trip along the River Stour. You'll get to see some of the city's beautiful architecture and learn more about Canterbury's history at the same time. I recommend doing this on a day trip.
How to get to Canterbury by train
You can get to Canterbury by train from London Victoria and London St. Pancras International. The fastest trains get to Canterbury in under an hour, although some take around two hours.
6. Hampton Court Palace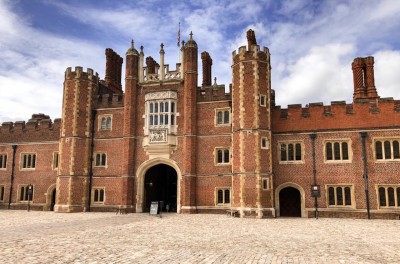 One of the most famous palaces in Britain, King Henry VIII's sumptuous residence on the River Thames is an easy day trip from central London and a popular destination for history buffs and tourists alike.
At Hampton Court Palace you'll discover fine architecture, elegant rooms filled with art treasures, beautiful courtyards, and more than 60 acres of gardens.
You can easily spend a day here wandering through the different parts of the palace that reflect the various periods in its history and the people that lived here.
Highlights include Henry VIII's Tudor State Apartments, the Haunted Gallery (named after Henry VIII's fifth wife Catherine Howard who was beheaded and whose ghost apparently roams the long corridor), and the King's and Queen's State Apartments. These were designed in the 17th century by Sir Christopher Wren, the architect behind St Paul's Cathedral.
In Clock Court above the Anne Boleyn Gateway you'll see the palace's famous 500-year-old astronomical clock.
The gardens are also worth exploring. Within the grounds you'll find the Privy Garden and the King's private garden. At the far end, you can see the River Thames flowing past.
There's also an orangery, a glasshouse containing the Great Vine (apparently the largest known vine in the world), a canal (The Long Water), and the famous maze.
The part you can visit is the only remaining part of the original layout, but still covers a third of an acre.
According to the palace's website, it has a trapezoid shape and takes 20 minutes to complete (if you don't get lost!).
How to get to Hampton Court by train
A visit to Hampton Court is probably one of the easiest day trips from London by train that I have included on this list. Trains from London Waterloo to Hampton Court run every half an hour.
Get off at Hampton Court station: this is located on the other side of the River Thames, but is only a five minute walk across Hampton Court Bridge to the Trophy Gate.
7. Hastings
Hastings in East Sussex is probably familiar to many of us who learnt at school about the 1066 Battle of Hastings and invasion by William the Conqueror. It's another on the top day trips from London by train.
On a day trip to the town, you can brush up on your childhood knowledge. You can visit the ruins of Hastings Castle, where William the Conqueror lived. It sits on the clifftop looking out to sea.
You can also walk out to Battle Abbey, which was built on the site where King Harold II battled with William. There is a stone that marks the place where Harold was killed.
Take a ride on the small scenic railway, the Easthill Lift for fabulous views out to sea. The lift is a funicular and is the steepest railway in the UK.
It runs up to the Hastings National Park where there are woodland and coastal paths. The railway itself looks down on the town's seafront and beaches, with its pier, cafes, bars and attractions.
One of the best ways to explore Hastings is by walking around its charming, narrow streets and alleys. Here you'll find the Hastings Fishermen's Museum, a place to visit for anyone interested in the history of fishing and seafaring in the area.
The Shipwreck Museum will likewise appeal with its displays and information on local shipwrecks. You can also stop by the Hastings Museum and Art Gallery.
How to get to Hastings by train
You can get to Hastings from three London stations: Charing Cross, Victoria and St. Pancras International. Depending on the route, it will take between one and half hours and two hours.
8. Margate
Margate is another destination in Kent that is worth considering if you're looking for day trips from London by train.
The town is situated on the north coast, with a sandy beach and promenade stretching alongside the seafront. Attractions include Dreamland, an amusement park with vintage rides.
Kids will love it here, with rides that include a ghost train, the waltzers and a big wheel. The park also hosts a variety of events and concerts.
In the Shell Grotto Margate Museum, millions of seashells decorate 70 feet of an underground grotto. It's a fascinating sight and really something to see. A museum provides information on its discovery and how the collection is conserved.
On the seafront you'll find the Turner Contemporary Gallery. As its name suggests, this is a contemporary art gallery, named after JMW Turner who had close connections with Margate.
How to get to Margate by train
You can reach Margate by train from London Pancras and London Victoria stations. They take between just over an hour and a half, and two hours.
9. Oxford
Oxford is a beautiful university town and one of the top day trips from London by train.
Christ church College is one of the most beautiful historic buildings in Oxford. I recommend visiting on a day trip from London so that you can see its gorgeous architecture (which includes the Tom Tower bell tower) and to get an insight into student life here.
You can book walking tours that will take you to some of the main areas.
There is also the iconic Radcliffe Camera. This dome is a library built to house the Radcliffe family's personal collection.
For those interested in art and culture, it's worth a visit to the Ashmolean Museum. The museum has a superb range of Greek and Roman artefacts, 18th century paintings from Europe and impressive collections of Chinese art and modern British art.
Oxford's Museum of Natural History has a vast collection of natural history objects, as well as examples of extinct animals and birds (the remains of the 'Oxford Dodo' and of dinosaurs are here).
There's also the University Church of St Mary with its beautiful stained-glass windows. And you can admire the Bridge of Sighs which connect the buildings on two sides of a narrow street.
If you're up for an outdoor activity, the beautiful Botanic Garden and Arboretum is a good place to start. You can also head out along the river for a gentle afternoon stroll, hire a punt or book a boat trip to take a tour of the city from the water.
How to reach Oxford by train
Trains run from London Paddington to Oxford and take around an hour. They also run from London Marylebone, with a slightly longer journey time, of around an hour and a quarter.
10. Portsmouth
Portsmouth is a fascinating day trip from London by train. If you're sightseeing, make sure you head to Portsmouth Harbour train station as it's in this area of the city that a lot of the sights are located.
One of the top places to visit is the Portsmouth Harbour Dockyard. It contains a wealth of attractions showcasing the city's role in maritime history, both past and present.
This includes HMS Victory, the flagship of Lord Nelson, as well as the Mary Rose Museum which houses the remains of Henry VIII's ship which sank in 1545, but was raised from the seabed in 1982.
You can also visit the Royal Navy Submarine Museum and the Explosion Museum of Naval Firepower as part of your ticket and take a boat trip around the harbour.
For more history, head to the D-Day Story museum situated towards the city's Southsea Beach. This is definitely worth visiting to learn more about the invasions during the Second World War. Its location means you can also visit Southsea Castle and the South Parade Pier with its small amusement park and eateries.
For views over the city, book a ticket up the Spinnaker Tower. This is based in Gunwharf Quays, an ideal spot for some shopping or for food and drinks after a day of sightseeing. Or head to the beach for some sea and sand!
How to get to Portsmouth by train
If you are travelling by train, there are different stations you can arrive at. However, for sightseeing, catch the train to Portsmouth Harbour station. South Western Railway runs trains to Portsmouth from London Waterloo.
The journey takes between about 1 hour and 40 minutes and 2 hours. Southern Trains also run from London Victoria station.
11. Rye
Rye is a medieval market town in East Sussex. It is a small quaint place with pretty cobbled streets; Mermaid Street in the centre is particularly noteworthy with its eye-catching flower and vine covered buildings.
According to Great British Life, Mermaid Street "has been voted as one of the most "'Instagrammable' streets in the UK". Visit on a day trip and you'll see why.
On a visit to Rye, you can learn more about the town's history in the Rye Castle Museum situated in Ypres Tower. You can climb the tower to look out over the surrounding area.
It's also worth seeing Lamb House, now a National Trust property. Built in the 18th-century, and owned at one stage by Henry James the 19th-century writer, it has many interesting features such as its wonderful garden and beautiful architecture.
Rye is close to Camber Sands, a huge expanse of beach on the East Sussex coast with large sand dunes. It is popular with surfers and an easy trip out from Rye (buses run from the train station to the beach).
So you could always combine a visit to Rye with a detour to the beach.
How to get to Rye by train
Travel to Rye from London St. Pancras. It takes just over an hour.
12. Salisbury
Salisbury is a city in Wiltshire, England. It's known for its cathedral, which at over 120 metres has the tallest church spire in the United Kingdom.
The cathedral contains one of four original copies of the 13th century Magna Carta that now survive. It also has the world's oldest mechanical working clock. If you're feeling energetic, climb up the 332 steps to the top of the tower for stunning views out across the city.
When you wander around the city centre, you'll see other Salisbury attractions, including its medieval half-timbered buildings.
There is the 18th century Mompesson House, a grand National Trust property that you can take a tour around. You can also explore nearby Arundell's, the former home of the British Prime Minister Sir Edward Heath.
For more history, visit the Salisbury Museum which has archaeological and social history displays. There are also art exhibitions and glass and ceramics displays.
Salisbury is less than 10 miles from Stonehenge, a mysterious prehistoric ring of standing stones. It is now a UNESCO World Heritage Site. It's definitely a place to visit and you can pick up tours from Salisbury.
Click here for more information.
How to reach Salisbury by train
The best way to reach Salisbury by train is from London Waterloo station and a journey which takes less than an hour and half. Indirect trains also run from London Paddington, but are less frequent and take longer.
13. Stratford-upon-Avon
Stratford-upon-Avon in Warwickshire is the birthplace of William Shakespeare and as such is one of England's best loved destinations.
You can learn a lot about Shakespeare on a day trip here. You can visit the house where he was born, see his childhood school and explore his wife Anne Hathaway's Cottage.
A trip to Stratford-upon-Avon would not be complete without a visit to the glorious 17th century building of the Royal Shakespeare Company (RSC).
There are regular exhibitions, performances and tours on offer here, as well as activities for kids. Some of the performances are afternoon shows so these would also be possible on a day trip here.
There are also lots of other things to do aside from getting your Shakespeare fix. The MAD Museum hails itself as the "UK's only mechanical art venue" and contains interactive exhibits.
In its own words "think of the machines and gizmos used in Wallace and Gromit, Scrapheap Challenge and Chitty Chitty Bang Bang". This is one for the kids!
Children may also enjoy the Stratford Butterfly Farm where you can experience butterflies and birds flying around in a tropical greenhouse.
How to get to Stratford-upon-Avon by train
Stratford-upon-Avon has indirect rail links with London Marylebone and a journey time of around 2 hours. You can also travel from London Euston (again trains are indirect) and take a little longer.
14. Warwick
Warwick is a city on the banks of the River Avon in Warwickshire. Its main draw is Warwick Castle, built by William the Conqueror in 1068. This is therefore one of the key things to do in Warwick.
The castle has a good selection of things to do that makes it suitable for the whole family.
An admission ticket allows you to learn about the preparations for battle, run around the 'Horrible Histories' Maze, and enter the castle's dungeon. The castle also offers a falconry display which allows you to get up close with some of its magnificent birds.
Aside from Warwick Castle, there are other things to see in the city and some beautiful buildings. This includes the St. Mary's Church where you can climb the tower and the Market Hall Museum.
You can also visit Lord Leycester Hospital, a retirement home for soldiers, to learn about its history and wander around its gardens. St. John's House Museum is based in a Jacobean building and provides information on the Royal Warwickshire Regiment.
If you want a more extensive walk than just around the streets and museums of Warwick, you can then head to Hill Close Gardens, Victorian gardens that are located near to the racecourse.
How to get to Warwick by train
Both direct and indirect trains run from London Marylebone with a journey time of around an hour and a half.
15. Whitstable
Whitstable is a coastal town in the north-east of Kent. The town has a scenic seafront, including a harbour and beach.
A coastal walk takes you along the side of the shingle beach where you can look back out to sea (if you have the time, you can walk to Herne Bay, 5 miles away). There are also colourful beach huts that add to its charm.
Whitstable is a place for foodies. There is an excellent selection of fantastic eateries here, as well as the chance to buy fresh seafood from the stalls in the harbour.
There's also a fish market nearby. Whitstable is famous for its oysters so if you like them, definitely head here!
Away from the seafront, there are quaint shops in the town centre to browse in and some tea rooms.
How to get to Whitstable by train
You can day trip to Whitstable from both London St. Pancras and London Victoria stations. The journey takes around an hour and 15 minutes.
16. Winchester
Winchester is a historic city in Hampshire. It has a rich history with buildings dating back to medieval or Tudor times. As such it's a popular day trip for tourists.
Top of the list in Winchester is its gothic cathedral. The cathedral is beautiful and has been altered throughout time with different architectural styles being added to its exterior design.
The cathedral is significant as it houses King Arthur's Round Table where legend says he called his knights together before they set off on another quest.
Winchester is also home to the famous Winchester College. Founded in 1382, it is said to be England's oldest surviving public school that still teaches students.
The city has plenty of museums, including The Gallery, an art gallery located in the Winchester Discovery Centre.
Other attractions in the city include the ruins of Wolvesey Palace (or Old Bishop's Palace), where the Bishops of Winchester lived in the Middle Ages.
It's also a lovely place to stroll around, and there are some paths that go alongside the River Itchen.
How to get to Winchester by train
Direct journeys to Winchester are from London Waterloo. It takes around an hour to reach Winchester.
17. Windsor
If you're looking for a unique place to visit – that's easy to reach from London and offers you a close up with British Royalty – then head to Windsor.
Home to the oldest inhabited castle in the world and a short walk to Eton College, one of the world's most famous public schools, you can have a wonderful day trip to Windsor.
The number one draw here is Windsor Castle. Built by William I, it's the Queen's main weekend residence and some sections are open to the public.
You can see the medieval Round Tower, the gothic St. George's Chapel, as well as grand and ornate reception rooms and Semi-State rooms.
Once you've been inside the palace, walk around to the Long Walk. This is a stunning three-mile long driveway that stretches through Windsor Great Park up towards the castle.
It is part of the route taken by Megan Markle in her carriage en route to her wedding.
Other things to explore on a day trip include the town centre with its 18th century Crooked House. There are places to shop for souvenirs or to stop off and splash out on a traditional English afternoon tea.
You should also walk along the river and stroll up to Eton town with its famous public school.
How to get to Windsor by train
Trains run from London Paddington and London Waterloo. They take between 30 minutes and an hour.
Other UK short breaks and UK staycations
I hope this post on day trips from London by train helps you plan some activities and excursions.
If you are looking for ideas for UK short breaks and UK staycations, see my following posts:
My website also contains more ideas for short trips to Europe.