London: Top things to do in Richmond Park
Richmond Park is the largest of the eight Royal Parks of London.
Covering an area of 2,500 acres, it is home to a large deer population, as well as ancient trees and other wildlife. It's a fantastic spot for an outing and one of London's many free activities.
There are walking paths, bike tracks, ponds, and beautiful gardens in the woods. The park also includes a prehistoric hill fort with panoramic views of London.
Read on for things to do in Richmond Park, as well as information to help you plan your day out.
This post contains affiliate links
Things to do in Richmond Park
See the famous deer
Richmond Park is different from some of the other Royal Parks you might visit in London. It is wilder and more natural.
There are wide-open spaces with scrubby vegetation and large forested areas. As a result, it's a place to see wildlife in its natural setting.
Most famously, the park is home to over 600 Red and Fallow deer, which roam freely throughout the extensive grounds. If you find a spot where there are groups of them grazing together, they are a real sight to see.
It's common to see them wandering across paths and roads, so be careful.
Although it's tempting to get close to take pictures of these beautiful creatures, you should stay a safe distance away. This is especially important during the 'rutting' (breeding) season in the autumn, when the male deer can be aggressive.
Richmond Park is, therefore, a place to admire the deer – but at a distance.
Wander through the beautiful Isabella Plantation
The Isabella Plantation is a Victorian woodland garden and one of the top things to do in Richmond Park. It dates from the 1830s and has been a popular place for the public to visit since the early 1950s.
The gardens here are gorgeous, with beautiful flowers, trees, and shrubs. You can see these sights as you wander through 40 acres of woodland paths and past small streams and ponds.
Isabella Plantation is open throughout the year. The azaleas in the garden bloom into full flower at the end of April through to early May, making this a great time to visit.
Get spectacular views from King Henry's Mound
For history buffs, or if you want some spectacular views across London, head for King Henry's Mound.
This is a steep mound in Richmond Park where rumour has it that Henry VIII saw a signal from the Tower of London that his then-wife Anne Boleyn had been executed and he could remarry.
Although the information on the website throws doubt on this story – that it's more likely to be a Bronze Age burial chamber – I would recommend the visit for the views alone.
The mound provides expansive views of central London, including of St. Paul's cathedral.
Follow the Tamsin Trail
The Tamsin Trail is a cycling and walking trail that takes you around the perimeter of Richmond Park. It is popular with cyclists, runners, and dog walkers.
The trail is just under 7.5 miles long and is a relaxing way to see the main attractions in the park, especially on a pleasant sunny day.
The park's website says that it takes around three to four hours to walk the entire trail if you do this at a leisurely pace and stop off for refreshments.
Have tea on the terrace in Pembroke Lodge
Pembroke Lodge is worth a visit, especially if you need a rest from walking around the park.
It's an attractive Georgian Mansion with 13 acres of manicured gardens and a terrace offering excellent views. The Butler's Pantry serves tea, cake, sandwiches, as well as more substantial hot food.
Pembroke Lodge is open throughout the year. It is a popular tourist attraction, and so can get very busy. Because it does not take reservations, it's best to go at a quieter time of the day to avoid disappointment.
Go cycling
Judging by the swarms of cyclists on the park's roads, cycling is a very popular activity in Richmond Park, and the size of the park means there's ample opportunity to get some exercise and see the main sights this way.
You can cycle on the roads but also on the Tamsin Trail. If you choose the latter, you'll get in a cycle ride of over 7 miles.
If you don't have your own cycle, you can hire one by Roehampton Gate. Check out the Parkcycle website for information on reservations and bike hire costs.
Alternatively, you can book cycling tours that combine cycling in Richmond Park with riding along the Thames Path and a stop off for lunch.
How to get to Richmond Park
Richmond Park is bordered by several London boroughs. You can get there by public transport, but your route will depend on which gate you use to enter the park.
The most popular entrance is in the London Borough of Richmond-upon-Thames, not far from central London. You can reach the Richmond entrance via the London Underground (District Line) or National Rail trains to get to Richmond Station. From the station, you can catch a bus (look for the number 371 or 65 buses) to Richmond Gate.
You can also travel entirely by bus, but the one you catch will depend on your starting point. Check out the Transport for London website, where you can plan your journey.
If you choose to drive, there are several car parks available. The locations of these are marked on this map. Although it is free to roam inside the park, there is a charge for Richmond Park parking.
Note that it can be busy in the park on certain days or times of the year, so it might be wise to arrive early to guarantee you can get a space.
Cafes in Richmond Park
There are several places where you can stop off for refreshments inside.
Pembroke Lodge, the aforementioned Georgian mansion, is set in extensive landscaped gardens and serves lunch, as well as snacks and drinks.
The Roehampton Cafe, on the Putney and Roehampton sides of the park, is another option. This also serves a variety of snacks, including handmade cakes.
You will also find several kiosks dotted around the park: these sell snacks and drinks and are useful stopping points to grab an ice-cream to eat on your walk around the park.
Toilets in Richmond Park
There are plenty of places to stop for a comfort break when you're in Richmond Park (no less than nine toilet blocks in fact). The map marks the location of these. Nearly all offer disabled toilet facilities.
Other things to do in the Richmond area
There are plenty of things to do in Richmond Park. However, there is a wealth of other things to explore in the nearby area. I have set out some of the things you might want to consider below.
Visit Kew Gardens
The Royal Botanic Gardens at Kew is a must if you're in the area. Located around six miles from Richmond Park, it's a UNESCO World Heritage site covering over 300 acres.
There's so much to see in Kew Gardens. There are a variety of different gardens to wander around, a lake, and several glasshouses housing different species of plants.
Most striking are the Temperate House and Palm House. The Temperate House is the world's largest Victorian glasshouse and houses over 10,000 plants from temperate zones around the world.
By contrast, the Palm House offers tropical plants. The tropical heat inside makes it a perfect place to duck into if you visit during the winter months.
Kew also has a 17th-century palace, a 50-metre high pagoda, and the Treetop Walkway, where you can walk 18 metres above the gardens and look down.
You can book tickets for Kew Gardens here.
Explore Hampton Court Palace
Hampton Court, King Henry VIII's sumptuous residence on the River Thames, is one of the most famous palaces in Britain. It is around 15 miles from Richmond Park.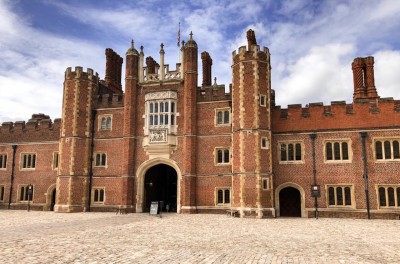 The palace has a long history that spans over seven centuries (my detailed post provides more information).
On a visit here, you will discover fine architecture, elegant rooms filled with art treasures, beautiful courtyards, and the UK's oldest surviving hedge maze, all sitting in more than 60 acres of gardens.
You can book tickets to Hampton Court Palace here.
See the nature at The London Wetland Centre
The London Wetland Centre is just over four miles from Richmond Park. It is a nature reserve situated on the site of four old reservoirs.
This is another place to enjoy local wildlife while also getting some fresh air. It covers over 100 acres of land, with pathways that take you past ponds, lakes and marshes. It's ideal for birdwatchers, and there are several hides scattered around the side of some of the marshes which visitors can use.
For those looking for a leisurely walk, you'll still get to see different varieties of birds and animals without tucking yourself away in a hide. The birds freely wander through the Centre: when we were there, we had to make way for several families of ducks and geese walking across the pathways.
We also got to see the Asian short-clawed otters swimming around in their pools. These are apparently the smallest species of otter.
See Richmond town and walk along the river
Richmond itself is a beautiful place to visit and is around a mile and a half away from the park.
There are plenty of opportunities for some retail therapy in the centre, with a great selection of shops, including some that are unique and boutique.
It's also a great place to eat out. There are many options in the town itself, but some are a short walk away along the river. These are particularly lovely in the summer months as they often have outdoor spaces for eating and drinking and great views across the water.
There is also a theatre in Richmond, ideal for an evening out.
Visit the quirky Strawberry Hill House
Just two miles from Richmond is the wonderful gothic mansion Strawberry Hill House. This originally belonged to Horace Walpole, the son of Sir Robert Walpole, Great Britain's first Prime Minister.
Although Strawberry Hill House is relatively small, it's still worth exploring. It's a unique place – a quirky white building with turrets, a place that Walpole bought in the mid-18th century, with the intention of creating a "little gothic castle".
On a visit here, you'll wander through a maze of different rooms, each bathed in a different colour and each unique.
Some have beautiful stained-glass windows, while others have ornate gothic fireplaces and carvings around doorframes. There are intricate, colourful, geometric ceilings throughout.
Aside from the actual house, you can also wander around the garden. There's a small café with a few tables outside.
Indulge in some retail therapy in Kingston-upon-Thames
Kingston-upon-Thames is just a short bus or car ride from the park's Kingston Gate. It has a decent shopping centre, with a large Bentalls shopping centre and a huge John Lewis. There is also an old market square where you can browse food stalls.
The river runs through the town, and there is a riverside walk here. The Rose Theatre also puts on plays and hosts comedy nights.
Other ideas for things to do in London and UK short breaks
There are plenty of things to do in Richmond Park, as well as in London more widely. You might be interested in other posts on London and UK short breaks:
I also have a range of other posts on short breaks in Europe on my website – click here for more information.